FILMFACTS
TRIVIA

"
It's five years later for Tony Manero. The fever still burns!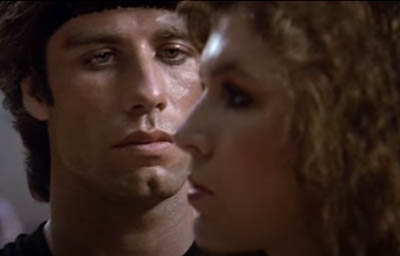 Totally Trivia
Film facts for the 1983 Dance / Music movie starring John Travolta, Finola Hughes, Cynthia Rhodes, Steve Inwood
Steve Bickford, Julie Bovasso, Patrick Brady, Norma Donaldson, Jesse Doran, Joyce Hyser, Deborah Jenssen, Robert Martini, Sarah M. Miles, Tony Munafo, Susan Olar, Cindy Perlman, Kurtwood Smith, Ross St. Phillip, Charles Ward (II), Frank Stallone Update Cast
We believe the following trivia is all legit. If it's bogus or you have additional info, please update us.
The actress who plays Jackie (Cynthia Rhodes) is actually married to 80's rocker Richard Marx. Who is responsible for the songs "Right Here Waiting." and "Hazard"
A young Patrick Swayze can be seen in the sceen when Tony is trying out for the lead.
Classic Cameo Alert! Watch early in the film as Travolta leaves a dance studio. Director Sylvester Stallone bumps into Tony on the street and turns camera-side for a moment with a scowl. Criticised at the time for not being able to keep his ego out of any film he was involved with, I always looked on the moment as total brilliance due to Travolta's hint of recognition.
At the nightclub where Tony works at night, he meets up with 2two groupies, one of them is Joyce Hyser, the lead character in "Just One of the Guys", she played Terry.
Thanks to
Nick Napolitano
In the first scene (the auditions) and later, in/after the show, Ben Lokey can be seen. He gets picked by the director to move on, but Tony gets booted. He played Kelly's evil dance instructor in the movie "Breakin'".
The Soundtrack CD saw fit to happily quote the film's worst review in the liner notes!
"Satans Alley? Hmmm... Well okay Sly... but I don't know... " (Travolta to Sly on hearing the plot)
Finola Hughes (Laura) was on both soap operas General Hospital ('91-'07)and All My Children ('99-'03).
In the beginning, Tony is auditioning, the choreographer sizing up the talent is Kurtwood Smith. Known for his villainous role in "Robocop," and more recently as "Red" in "That '70's Show."
Actress 'Donna Pascow (Anette)' appeared in a small cameo, sitting in the audience, attending the Broadway Show "Satan's Alley," but her scenes were left on the cutting room floor.
Actress 'Karen Lynn Gorney (Stephanie)" was originally going to play small role, as one of Tony's friends; however, the original script went thru several revisions and she ended up as his love interest.
Bogus Trivia
There's often fake stuff floating round, y'know? -Like the 'ghost boy' that can allegedly be seen in "Three Men And A Baby".
But, nothing bogus that we know yet for "Staying Alive".
Next: Behind The Scenes
Or use the menu to navigate
1983 Paramount Pictures
1999-2020 fast-rewind.com
V4_27 Powered by Rewind C21 CMS