REWIND
REVIEW

"
It's five years later for Tony Manero. The fever still burns!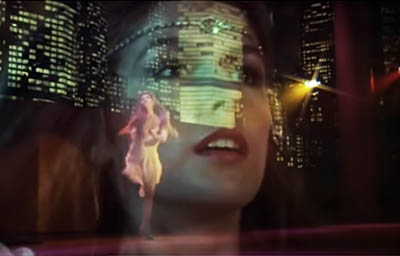 Starring
John Travolta, Finola Hughes, Cynthia Rhodes, Steve Inwood
Steve Bickford, Julie Bovasso, Patrick Brady, Norma Donaldson, Jesse Doran, Joyce Hyser, Deborah Jenssen, Robert Martini, Sarah M. Miles, Tony Munafo, Susan Olar, Cindy Perlman, Kurtwood Smith, Ross St. Phillip, Charles Ward (II), Frank Stallone Update Cast
Cameos
Look for Sylvester Stallone, Patrick Swayze, Ben Lokey making a cameo appearance!
Review
This sequel to Saturday Night Fever begins five years after Tony Manero (JOHN TRAVOLTA) left Brooklyn to make it as a professional dancer on Broadway. Whilst attending brutal auditions and practicing his 'hobby' of rejection from New York Agents, he makes a modest income by waiting tables and teaching a dance class. Despite his relationship with fellow chorus dancer Jackie (CYNTHIA RHODES), he is easily enticed by wealthy star dancer Laura (FINOLA HUGHES) and wastes no time in diving between her sheets. Soon enough though, good fortune strikes and both Tony and Jackie make it into the chorus of a major Broadway show called 'Satan's Alley.' Here we meet the show's Director (STEVE INWOOD) who barks aggressive diatribes at the dancers for the duration of the film.

Soon enough, Tony's eager nature pushes the incompetent male lead out of the show and he is headlining opposite Laura. Tony begins to realise that the lusty Laura is no match for the true emotions he has for Jackie. He reveals this in his jealousy of Jackie's musical 'affiliation' with her fellow band member Carl (FRANK STALLONE)

'Did you hear the way you said goodnight to him? It was so sweet I had a cavity just listening to it'

(Tony to Jackie about Carl)

Tony retreats home to Brooklyn to collect his thoughts, taking care to cross the Verranzano bridge on foot so that we 'Fever' fans can nod knowingly to each other. On arriving home, there's an amusing cameo from Tony's mother (JULIE BOVASSO) who seems only to increase his problems.

' What do you want me to do? Stretch it?' (Tony's Mother on hearing his comment that the House seems smaller as an adult)

Tony has to make a stand in his personal and professional life. The 'personal war' he's having with Laura is affecting the show's performance. Can he take center stage and show Laura who he really is?

Does stardom await?

King of the 'sequel' with the Rocky saga hot on every executive's lips, Stallone was venturing into a foreign genre, the musical film. However, in terms of creating a successful follow-up, Stallone was unable to do for this genre what he had done for other outings.

There are worthy nuggets from Travolta who makes the best of what he has, but too many montages mean that we are treated only to brief sections of dialogue followed by lengthy dance sequences. In fact, Travolta is the saving grace here. He knows the character of Tony Manero only too well and his big grin and comic way with his lines brings some much needed captivation.

It's a shame that Stallone's obvious Directing talents (Paradise Alley, Rocky II) were applied here to the spectacle of the ridiculous 'Satan's Alley' show and not to the gritty depiction of life laced with quirky humour, the likes of which we saw so much of in Rocky II. In fact, the scenes featuring Julie Bovasso, the only other original cast member from Saturday Night Fever are the only times when you might get a hearty laugh.

The first draft of the screenplay was written solely by the original scribe Norman Wexler (before Stallone's industrial story press ironed out all of the creases). It was far more developed, keeping on Karen Lynn Gorney's original character 'Stephanie' as Tony's manager and numerous other central characters. Wexler's screenplay expands on its title with much more depth and maturity. Unlike the final Stallone version where the title of the film nods only momentarily to a cool tune by the Bee Gees, Wexler's 'Staying Alive' was devoted to the actual art of 'staying alive' as an auditioning dancer in Manhattan. It depicted this through many clever scenes of how to scam a free lunch or how to get free bowls of nuts and crisps in a bar etc..

This draft also followed immediately on from its predecessor as it depicts Tony moving to Manhattan and realising that he does not posses the skills to function as a professional pop, jazz and ballet dancer. He then spends a year or so training and learning the steps before auditioning. We are treated to none of this in Stallone's version. He opens with Tony as an accomplished dance teacher, trapped between the love interests of the rich Broadway starlet and the girl next door. As Wexler himself put it when reading the final draft - 'vacuous, impoverished, crass and crude.'

As a huge fan of Stallone's writing and directing work, it pains me to support such a verdict since I value his contribution far beyond his action roles of the 80's. However, it would be bias on my part to try to evolve Staying Alive into something other than an amusing and occasionally fun movie. Did Sly see the original? He took a convoluted rite-of-passage rich with realistic characters and diluted it beyond recognition until it was 'Rocky in Tights' - full of 'against the odds' montages. What surprises me is that only seven years earlier he had written one of the most poignant, engaging and well-structured screenplays of the 20th century. Such is life?
Author:
Simon Barber
Update This Review
Verdict
I still love to ride this train and I'm very fond of the film. In my formative years, I thought so much of the movie that I even wrote to Travolta about it, who promptly replied!

Many think that this film was a major flop, but as a financial exercise it cost $18 million and made $65 million - that's not too shameful for 1983.

Notable certainly for the physical achievement Travolta made under the hands of Stallone with his total body resculpture, he is charming throughout and there is capable support from Cynthia Rhodes (Dirty Dancing) and Frank Stallone as the 'demented paratrooper' Carl. Watch out for a classic movie finish as Travolta feels the need to prowl the streets of Manhattan strutting his thang.

'Do you know what I want to do?.....Strut'
Great music and great pace.

Could and should have been so much better.
Rewind Rating
The Movie Data
Jump To: Music & Soundtrack Vibes
Or use the menu to navigate
1983 Paramount Pictures
1999-2020 fast-rewind.com
V4_27 Powered by Rewind C21 CMS