REWIND
REVIEW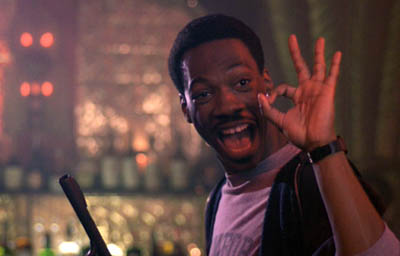 Starring
Eddie Murphy, Judge Reinhold, John Ashton, Lisa Eilbacher
Steven Berkoff, Paul Reiser, Ronny Cox, Joel Bailey, Jonathan Banks, Gene Borkan, Alice Cadogan, Michael Champion, Stephen Elliott, Michael Gregory, Gilbert R. Hill, Art Kimbro, Frank Pesce, Bronson Pinchot, James Russo Update Cast
Early Appearances
See Judge Reinhold before they were famous!
Cameos
Look for Martin Brest, Damon Wayons making a cameo appearance!
The genesis of the Beverly Hills Cop story allegedly lay with Simpsons then-boss Michael Eisner who was stoppped one night by the police in Beverly Hills, though Simpson would for years (until his untimely death in 1996) hotly deny that Eisner was the source of the idea.
More Trivia from Beverly Hills Cop
Review
The story of Beverly Hills Cop is another that starts with high octane, high gloss producers Don Simpson & Jerry Bruckheimer ("Flashdance", "Top Gun").

It is 1977 and Simpson, then a young executive at Paramount Pictures, called in Danilo Bach, a screenwriter, to discuss what Bach thought was a rather unispiring premise for a story... An East LA cop gets transferred to Beverly Hills. Other than that ...there was no story.

Simpson envisaged that the movie would be a kind of cross between Clint Eastwood's "Dirty Harry", Warren Beatty's "Shampoo" and Roman Polanski's "Chinatown".

In any event Bach apparently wasn't inspired and told the producer that he'd think about it. When a dearth of more interesting projects appeared, Bach pitched a slightly more defined version to Simpson. In this version, the cop would be from an East Coast city to investigate a murder that he believed was perpitrated by a smooth Bevely Hills businessman and would turn Beverly Hills upside down with his 'rough town' investigative methods.

Simpson and his then-boss Michael Eisner loved the idea and the movie that would eventually become Beverly Hills Cop was born. In his original screenplay called "Beverly Drive" Bach's character was called "Elly Axel" and he was from Pittsburgh, investigating the brutal murder of a friend. Elly's character goes to Beverly Hills on the trail of his killer where he focusses his attention on a wealthy Beverly Hills businessman name Dagliesh whilst co-operating loosely with the local police through a 'by the book' lieutenant named "Bogamil".

You can clearly see that the elements of the final movie are present even in that first draft, but the script completely lacked the humour that was to be everywhere in the final film.

Bach was instructed to make changes, but after a few more attempts, and yet more writers, changes at the studio meant that the project went stale.

Simpson in the meantime made "Flashdance" and needed a follow up project. With a new writer in the form of Daniel Petrei Jr. to inject much more humour. Petrie delivered a new script with humour in abundance, with the central character now called "Axel Elly", from Detroit (Brucheimer's home town) rather than Pittsburgh.

The script attracted the attention of actor Mickey Rourke who was interested in playing the central character. He ordered rewrites and then left the project after he lost interest.

Enter action hero Sylvester Stallone. Stallone himself then rewrote the script and removed the humour as he was only interested in playing a straight faced cop with an exotic gun. After losing interest himself (Stallone would go on to use some of his story ideas in "Cobra") the project attracted yet another writer in the shape of Chip Proser, who would later pen the producers' smash hit "Top Gun".

Finally Eddie Murphy, having just had two big hits in the shape of "Trading Places" and "48 Hrs" entered the scene cast as the now re-named "Axel Foley".

Years later, many people would still be arguing bitterly about who had thought of Murphy for the central role.

Beverly Hills Cop went on to make over $15m on its opening weekend, an unheard of amount on so few screens (it opened on just over 1,500). It was a new genre of movie (the 'action-comedy') and in its wake the careers of many of the leading hollywood men like Stallone and Schwarzenegger were made.

Of course, Murphy was instant gold. His character's irreverant scam techniques became the stuff of legends.
Author:
Nick
Update This Review
Verdict
One of the best of the decade. A mould breaking movie that invented the "action comedy" movie genre. A true classic and example of 80's movie excellence.
The benchmark for the "action comedy" genre.

No negatives -unless you are offended by profane language.
Rewind Rating
The Movie Data
Jump To: Music & Soundtrack Vibes
Or use the menu to navigate
1984 Paramount Pictures
1999-2020 fast-rewind.com
V4_27 Powered by Rewind C21 CMS