REWIND
REVIEW
"
Up there with the best of the best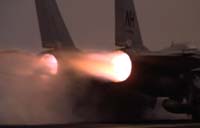 Starring
Tom Cruise, Kelly McGillis, Val Kilmer, Anthony Edwards
Meg Ryan, Tom Skerritt, Michael Ironside, John Stockwell, Barry Tubb, Rick Rossovich, Tim Robbins, Clarence Gilyard Jr., Whip Hubley, James Tolkan, Adrian Pasdar, Randall Brady, Duke Stroud, Brian Sheehan, Ron Clark, Frank Pesce, Troy Hunter, Linda Rae Jurgens, Admiral T.J. Cassidy Update Cast
Early Appearances
See Tim Robbins before they were famous!
Cameos
Look for Pete Pettigrew making a cameo appearance!
After many years of speculation, Tom Cruise announced in May 2017 that a sequel to "Top Gun" is definitely going ahead. He expects filming to start in 2018.

On the 31st May 2018 Tom Cruise signaled via social media that filming has begun on the sequel, entitled "Maverick"

What do we know?

-We know that it is a sequel, not a remake. The plot apparently follows pilots as they adjust to an era of drone tech that is making their old piloting skills obsolete.
-We know that "Oblivion" director Joseph Kosinski will direct.
-We know that German synth legend Harold Faltermeyer is back on-board too!
More Trivia from Top Gun
Review
We know that you all know the movie, so here at the 80's Movies Rewind, we thought we'd let you in on some unique behind the scenes information on this 80's classic amongst classics!

The story of top gun starts with high octane, high gloss producers Don Simpson & Jerry Bruckheimer ("Flashdance", "Beverly Hills Cop"). Allegedly while reading an issue of the California magazine, Bruckheimer thought to himself "This looks like Star Wars on earth".

Simpson, at time on the phone, glanced (upside down) at the article Bruckheimer was excitedly pointing at and dismissed it, thinking mistakenly that it was a "western". After Simpson finished his call, Bruckheimer insisted that he read the entire article. When he had finished there was no hesitation, Top Gun was born...

In short order Simpson & Bruckheimer had bought the film rights to the California article and had hired the articles writers to deliver a screenplay (after the many other writers that were approached -like Chip Proser- had turned down the project).

After several passes, the producers went back to Proser to offer $30,000 a week for his help to do 'top to bottom' rewrites. Eventually Simpson was to brag that Top Gun had taken 11 writers to get into shape.

The producers found Pete Pettigrew, a real life Top Gun instructor and retired two star admiral in the Navy. He was working at the Top Gun school and was prepared to help as long as the producers were willing to bow to the navy's needs for the correct portrayal of its fighter school.

Of course, during the production, Pettigrew's objections to certain scenes or concepts went basically unheeded in the search for excitement. As production continued, what had started out as a realistic portrayal of the Top Gun school diverged into a fantasy with no bearing on reality. This was done intentionally, with Simpson allegedly saying to Pettigrew that mom and pop in Oklahoma wouldn't know the difference, "and we're making this movie for mom and pop in Oklahoma".

Second unit flying scenes that had been filmed over water 'above the normal hard deck' were re-shot just skimming the mountain tops, completely below normal minimum legal flying heights for Top Gun pilots. (You may notice in the movie Viper says that the hard deck was 10,000 (feet) -its obvious that much of the action takes place below that height).

Pettigrew was to concede after the films success that many of the producers' modifications enhanced the movie -"They made the movie better than reality".

Add into the mix Tom Cruise, who was recovering from the flop of "Legend" who relented on his doubts on the project for an estimated $1m + fee and a pumping high octane soundtrack typical of Simpson, Bruckheimer pictures and you had a bone fide hit, taking more than $176m in domestic rentals, becoming the biggest hit of the year and cementing Tom Cruise's status as the top A-list star of the period.

Despite the critics panning the movie at the time, it still stands as one of the most exciting movies of the decade and plays as well now as it did then.

In the mid 90's a new widescreen transfer was made under supervision of director Tony Scott from the original EK negative and a new dolby digital soundtrack mixed from the original 6 track masters. This brought the picture up to late 90's picture and sound quality and this version is available on both DVD and LaserDisc formats.
Author:
Nick
Update This Review
Verdict
What can you say about a legend like Top Gun? A Massive all-time popcorn classic.
Great action, photography and pumping soundtrack...

...In a classic popcorn comic book kinda way.
Rewind Rating
The Movie Data
Jump To: Music & Soundtrack Vibes
Or use the menu to navigate
1986 Paramount Pictures
1999-2020 fast-rewind.com
V4_27 Powered by Rewind C21 CMS