REWIND
REVIEW

"
No Good without Evil. No Love without Hate. No Innocence without Lust. I am Darkness.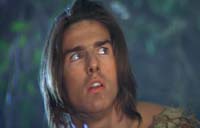 Starring
Tom Cruise, Mia Sara, David Bennent, Tim Curry
Peter O'Farrell, Alice Playten, Cork Hubbert, Billy Barty, Kiran Shah, Annabelle Lanyon, Robert Picardo, Tina Martin, Ian Longmur, Mike Crane, Liz Gilbert, Eddie Powell Update Cast
Review
Legend should be called... A 'Modern Classic Fairy Tale'.

From the director of "Alien" and "Blade Runner" comes a legendary fairy tale that Ridley Scott could do. This movie is a piece of movie art in itself. It is stunningly beautiful and even with all of this and a soundtrack eventually done by Tangerine Dream, it Failed. Just Like Dune, audiences did not grasp this film, but you might. If you've seen it, there is no forgetting it and if you haven't, give it a try, you may be pleasantly surprised. Now on to the plot...

Legend is a tale of good against evil, right against wrong and love against lust. Our hero is Jack (Cruise), a boy of the woods. A friend of the animals and eventually fairies. Then there is his great love, Lily. A beautiful but innocent girl. Jack wants to show Lily something magical. The most magical creatures in all existence, Unicorns. There is also a darker force at work. One who wants to destroy the Unicorns because they are the bearers of light. This darker force is the devil... And with the help of his goblins there may never be another sunrise. Now Lily accidentally helps the goblins hurt one of the Unicorns and puts her immortal soul in jeopardy. So Jack is the only one left who can save us from total darkness, with the help of an elf, a fairy, and a couple of gnomes. Will good triumph over evil? Do I even have to answer that question? It is a fairy tale....

Like Ridley's Blade Runner, Legend has two versions. Both available together only on a special DVD in the USA.

The first is the U.S. theatrical version. This Version was re-cut for theatres when Ridley's original cut failed to achieve greatness. In this cut, Lily is only a lady not a princess. Character dialogue is shorter and the soundtrack was redone by Tangerine Dream. This version is the only version that U.S. audiences knew until the DVD era.

The Second is the Director's cut. This, of course, is Ridley's vision of Legend. It has Jerry Goldsmith's original score. And the added dialogue and character development missing from the other cut. The film seems completely different... So if you have seen the original and enjoyed it, watch this one, you may enjoy it more!
Author:
marty
Update This Review
Verdict
I would not recommend Legend for everyone. Remember that it did fail. But for the ones who loved Legend, it is one of the best fantasy films around. It is very magical and has a strong cult following.

For me Legend is more personal. It came to theatres when I was 11 and was the only film I ever saw with my father. It was also very beautiful... I will remember it always..
Beautiful images... very magical.

Boring to many.
Rewind Rating
The Movie Data
Data
Release Date: 18 Apr 1986
MPAA Rating: PG
Studio: Universal
Production: 20th Century Fox, Embassy International Pictures, Legend Production Company Ltd., Universal Pictures
Genre: Fantasy
Update The Data
The Movie Trailer
Jump To: Music & Soundtrack Vibes
Or use the menu to navigate
1985 Universal
1999-2020 fast-rewind.com
V4_27 Powered by Rewind C21 CMS