REWIND
REVIEW

"
For the break of your life!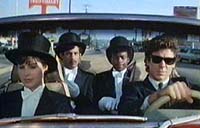 Starring
Adolfo Quinones, Michael Chambers, Lucinda Dickey, Ben Lokey
Christopher McDonald, Phineas Newborn III, Bruno Falcon, Timothy Solomon, Ana Sánchez, Peter Bromilow, Eleanor Zee, Scott Cooper (II), Ed Lottimer, Teresa Kelly, Ric Mancino, Lyla Grahm, Bea Silvern, Gweldolyn Brown, Andre Landzaat Update Cast
Early Appearances
See Ice-T, Lela Rochon before they were famous!
Cameos
Look for Jean-Claude Van Damme making a cameo appearance!
In '83, the dancers from Beat Streat and from Breakin actually met up and exchanged moves and ideas. At the time, East Coast and West Coast breakdancing were very different. It was a meeting ground where they actually taught and influenced each other before the movies were made. I find it interesting how close Beat Street was to true happenings at the time. Club names were not changed and a lot of names were of real local heroes at the time. As per this artictle by Mr. Wiggles, a dancer in beatstreat and member of Eletric Boogaloo dancing group and Rock Steady Crew:

"Boogaloo Shrimp (Turbo), Pop N Taco, AND Shabadoo (Ozone) arrive in NYC on tour with Lionel Richie and meet up with Mr Wiggles, Fabel, (both Magnificent Force, Rock Steady Crew), and Pex (NYC Breakers). We practiced in their hotel and exchanged styles and ideas. We taught them some breakin and up rockin (you can see the influence in Shrimp's footwork and when Shabadoo and Shrimp uprocked on the beach in the movie Breakin. We explained more detail and history of the culture from graffiti to mcin and terminologies: and in return they also taught us poppin and lockin and showed us how to dress (and you can see in the santa clause scene at the burning spear where we dressed like them when we were poppin in Beat Street. After the practice sessions we all performed in Lionel Richie's after-show party and continued influencing each other before the movies were filmed."
More Making Of Breakin'
Review
This classic movie is arguably the 'anti-hero' to the glossy, big budget 80's dance movies like "Flashdance" and "Footloose". Despite its much lower budget, Breakin' has a lot more to offer than you might imagine...

...One thing is the dancing. The dynamics of the dancing in this low budget movie put the high budget movies to shame. This little movie used talented dancers rather than trying to get actors to dance. Consequently, the acting is the weak part. But no matter, the even weaker story doesn't really require much acting anyway. The characters are pretty much able to just be themselves... and it shows in the sincerity with which the film plays.

In truth, when these young unknown actors are required to act, they are actually suprisingly good. But the dancing... well... that's another matter. -Brilliant!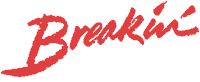 The fun, simple 80's fairy-tale naivety and utter lack of self consciousness in the whole movie makes it a true 80's classic.

If you're into 'high-brow' character movies or don't like dance music, then you're not gonna think much of it, but if you like the music, culture and dancing of the early 80's and would like a movie that actually delivers on the dance promise of movies like Flashdance or Footloose --and regardless of whether you like breakdancing or not, then, believe it or not, Breakin' is for you!

It's a great movie about the celebration of dance. It's not limited to any particular style. It was followed by a sequel the same year, "Breakin' 2: Electric Boogaloo".
Author:
Nick
Update This Review
Verdict
One of, if not the best of the true dance movies of the 80's. If you don't like breakdancing or hip hop, don't worry because the filmmakers wisely made the movie to appeal to all dance tastes.
Great Dancers and music. Good movie that rises above its weak premise.

Great Dancers aren't necessarily good actors. Low budget didn't help.
Rewind Rating
The Movie Data
Jump To: Music & Soundtrack Vibes
Or use the menu to navigate
1984 Cannon Films
1999-2020 fast-rewind.com
V4_27 Powered by Rewind C21 CMS