MISTAKES
BLOOPERS

"
For the break of your life!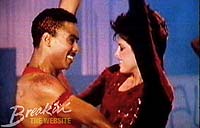 Oooopsy...
"Er, someone wasn't on top of their game that day..."
See the goofs, blunders and plain ole mistakes in the 1984 Dance / Music movie starring Adolfo Quinones, Michael Chambers, Lucinda Dickey, Ben Lokey
Christopher McDonald, Phineas Newborn III, Bruno Falcon, Timothy Solomon, Ana Sánchez, Peter Bromilow, Eleanor Zee, Scott Cooper (II), Ed Lottimer, Teresa Kelly, Ric Mancino, Lyla Grahm, Bea Silvern, Gweldolyn Brown, Andre Landzaat Update Cast
We believe the following are all legit mistakes. If we've bungled it, or you have additional info, please update us.
Thanks to
Delrose Johnson
In the auditioning scene where they rip their shirt sleeves, the next shot shows the sleeves intact.
During the scene in the beach, when electro-rock number 2, played by Bruno "Pop n' Taco" Falcon is dancing against Shaba-Doo, his partner electro-rock number 1, played by Timothy "Poppin' Pete" Solomon, clearly has a stand-in double that looks nothing like him.
If you watch the first dance scene at the Radiotron, you can see that the audience members that were first behind Ozone and Turbo, somehow magically appear on the opposite side, behind Electorock without having to walk from where they were standing (most notably, the guy with the slightly bleached hair and the dark skinned guy in the green jacket).
When Turbo is running and falls down the steps, you will notice that the stunt double looks nothing like him. Turbo is short and skinny with a jheri curl. The stunt double is tall, stocky, and has a box fade haircut!
When Turbo is outside dancing with the broom, you can actually see the strings attached to it.
In the audtion scene (during 'There's no stopping us') at the very end of the song were TKO are in a huddle, the camera is racing around them in circles, at some points you can actually see the camera assistant's arm! He wasnt running fast enough behind the cameraman...
Bogus Blunders
Sometimes an apparent goof is not a real mistake
But, nothing bogus that we know yet for "Breakin'".
Next: Some Extra Goodies
Or use the menu to navigate
1984 Cannon Films
1999-2020 fast-rewind.com
V4_27 Powered by Rewind C21 CMS