REWIND
REVIEW

Breakin' 2 Electric Boogaloo
"
They're back... For everyone who believes in the beat.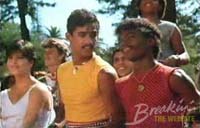 Starring
Lucinda Dickey, Adolfo Quinones, Michael Chambers, Susie Bono
Stever Notorio, Sabrina Garcia, Harry Caesar, Jo De Winter, Susie Coelho, Paulette McWilliams, Ice-T, Sabrina García, Peter MacLean, Josh Mott, Jim Jones (II), Tim Wise, Beto Lovato, Richard Gross, Ana Sánchez, Nick Segal, Jimmy Keegan, John Adam Thomas, Lela Rochon Update Cast
Early Appearances
See Donovan Leitch before they were famous!
Cameos
Look for Martika making a cameo appearance!
Review
Reminisce back to the decade-defining year of exuberance and splendor, 1984...

15 million Americans owned VCR's; "Miami Vice" and "The Cosby Show" both debuted on NBC; Ronald Reagan won an overwhelming presidential re-election; AIDS breaks out; thousands are reading "The Talisman" by Stephen King; The L.A. Raiders beat The Washington Redskins 38 to 9 at the Super Bowl XVIII; soundtracks such as "Footloose", "Purple Rain", and "Ghostbusters" are churning out number one hits;... and breakdancers hit the vinyl nationwide.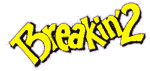 In the early to mid '80's, practicing to be a "breaker" was the most cutting-edge doctrine since mastering the Rubix Cube. The first in the group of street-dancing films, "Breakin'"(which was also released in 1984), introduced us to a trio of Southern-Californian dancers whose seperate dreams to be successful merged into one and created a stunningly talented team of friendship and hard work. Two easy-going street-dancers and one struggling uptown-girl pursued their artistic passions, and against all odds created a name for themselves with the hip Broadway musical "Street Jazz".

Stylistically speaking, "Electric Boogaloo" is a much more brightly colored film. While the chief colors of "Breakin'" tended to be black and red, Electric Boogaloo utilizes a neon rainbow-esque assortment of colors to illustrate Ozone and Turbo's newfound passion; teaching breakdancing to inner-city children.

The two rhythm-coordinated friends work in a brilliantly graffitied community center inspirationally titled "Miracles", whose main priority is to boost the self-esteem of inner-city children by allowing them to build on their inner talents.

She never thought she'd feel this way, but Kelly is burnt out on dancing. Dancing for Broadway, that is. She needs to find a way for her creative energies to flow more freely, and Miracles seems like a perfect outlet to express herself.

However, true to the urban East L.A. lifestyle that the main characters lead, Electric Boogaloo includes many new obstacles that Ozone (Adolfo "Shabba-Doo" Quinones), Turbo (Michael "Boogaloo Shrimp" Chambers), and Kelly, affectionately titled "Special K" (Lucinda Dickey), have to overcome.

One of the more superficial problems is Turbo's newly developing interest in women. Turbo has his eye on an adorably ringleted Puerta Rican beauty named Lucia (Sabrina Garcia) who doesn't speak a word of english. After some romantic tips from Ozone and a brilliant dance sequence from Michael Chambers in which he dances up a wall and on the ceiling, the couple realize that true love is the universal language.

On a more serious note, Miracles is in serious jeopardy. The city wants to tear down the community center and will only fail in doing so if Byron (Harry Caesar) and the rest of the group can come up with $200,000 in 30 days.

Also, Kelly is constantly being physically threatened by Ozone's jealous ex-girlfriend Rhonda (Susie Bono), and Miracles is being sabotaged by Electro Rock which is now headed by the menacingly stubborn Strobe (Steve "Sugarfoot" Notorio).

As if all that were not bad enough, Mr. and Mrs. Bennett disapprove of Kelly's friends, Turbo breaks his leg just days before the street fundraiser, and Kelly is supposed to leave California for a show in Paris.

The stakes all are high, but "Miraculously" (pun intended), and with the help of Mr. and Mrs. Bennett, Miracles may just be saved.

Electric Boogaloo is considered by many to be even superior than the original "Breakin'" film. Filled with more complexity, romance, and dancing, Electric Boogaloo is a hip-hop extravaganza that begs for another sequel!
Author:
Bridgette Marie
Update This Review
Verdict
I absolutely LOVE this film. It's been one of my favorites for a long time, but it seems that only recently MTV has been finding out about it and totally trying to immitate it's style.

Me and my best friend growing up, Monique, used to watch this film and I remember Monique thought that Ozone looked like her step-dad, Robert, and he actually did!

I love everything about this film. No matter how many times you watch it it never gets old, it never gets out-of-style or boring. It is simply a fabulous film!
Amazing dancing, great music, cute clothes, great plot, more complex than the original.

hmmm, none I can think of.
Rewind Rating
The Movie Data
Jump To: Music & Soundtrack Vibes
Or use the menu to navigate
1984 Cannon Films
1999-2020 fast-rewind.com
V4_27 Powered by Rewind C21 CMS