REWIND
REVIEW

"
Who ya gonna call? -GHOSTBUSTERS!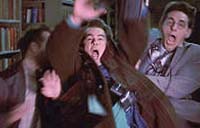 Starring
Bill Murray, Dan Aykroyd, Sigourney Weaver, Harold Ramis
Rick Moranis, Annie Potts, William Atherton, Ernie Hudson, David Margulies, Steven Tash, Jennifer Runyon, Slavitza Jovan, Michael Ensign, Alice Drummond, Jordan Charney, Timothy Carhart, John Rothman, Tom McDermott Update Cast
Cameos
Look for Larry King, Debbie Gibson making a cameo appearance!
The actress playing Gozer is a Czech fashion model, Slavitza Jovan, but her voice is provided by Paddi Edwards. The Czech actress originally spoke with her own voice, but because of her accent, Bill Murray thought she was saying "Jews and berries" when in fact she was saying "Choose and perish"!
More Trivia from Ghostbusters
Review
Take three off-beat scientists. Give them enough particle power to blast anything that gets in their way. And what do you get? GHOSTBUSTERS!

After being kicked out of their cushy jobs at Columbia University, Peter Venkman, Raymond Stantz, and Egon Spengler start their own business ... busting ghosts. Things are kind of slow at first, but business really begins to pick up as soon as they get their first customer, Dana Barrett.

With the coming of Gozer, all hell is breaking loose. There are ghosts all over the city -- from Chinatown to Rockefeller Plaza. To make matters worse, Dana and her neighbor Louis Tully are possessed by two demons who are the key to bringing Gozer into our world. The Ghostbusters are the only thing that stands between Gozer and the end of the world as we know it ...

True 80's fans will be pleased to know that we even have music montaging here too! The "Ghost Fever Grips New York" montage, in which the actions of the Ghostbusters are paralleled with newspaper and magazine headlines proclaiming their success, is one of the films best sequences.

The project originated with a script written by Dan Aykroyd. A card-carrying member of the American Society for Psychical Research, Aykroyd had for years been interested in paranormal activity. Inspired by that lifelong fascination, Aykroyd devised a premise that was packed with comedic possibilities. -What if ghosts were real and a team of scientists formed a company to deal with them, as they might any other household pest?

Armed only with that premise and a half-completed script, Aykroyd managed to arouse the interest of director Ivan Reitman. Excited by the basic idea, Reitman enlisted Harold Ramis to collaborate with Aykroyd in developing that concept into a full-fledged script. Backed by formidable talent (namely Bill Murray, Dan Aykroyd, Harold Ramis, and Sigourney Weaver) and box office appeal, Reitman was able to secure a financial commitment from Columbia Pictures almost immediately -- a remarkable feat considering there was no script and no budget.

The deal with Columbia had one big hitch. The studio needed a major release for the summer of 1984. Reitman and his team had exactly one year to come up with a script, mount the production and complete the extensive and time-consuming visual effects. With a final script in hand, Reitman and his production team gathered in New York in late October for three-and-a-half weeks of principal photography.

Reassembling in Los Angeles for an additional nine weeks of shooting both on-location and on soundstages. The filming was completed in early February, leaving special effects supervisor Richard Edlund and his crew less than four months in which to complete nearly two hundred post-production opticals. In spite of the scope of the project and the tight schedule, every member of the production team delivered -- and delivered big.

In its first week of release, Ghostbusters broke Columbia's "best opening weekend" and "best opening week" records. "Who ya gonna call?" became the summer's most popular catch phrase. Ghostbusters quickly climbed into the rarified "top ten" list of all-time box office attractions.

The film was so successful that two years later, in 1986, it would be resurrected on television as an animated series -- "The Real Ghostbusters." In 1988, the series would be reformatted and retitled "Slimer & The Real Ghostbusters," in order to appeal to younger kids (big mistake!).

A year later, a second film was made -- the appropriately titled "Ghostbusters II." Almost a decade later, in 1997, a new animated series was released -- Extreme Ghostbusters. This series focused on Egon and Janine mentoring a new crew of Ghostbusters. This is the same concept Dan Aykroyd has for a third Ghostbusters film, for which he has even completed the first draft of the script.

In 2016, the third Ghostbusters movie finally premiered to mixed reviews featuring an all female team of Ghostbusters. Many of the original cast made cameo appearances. However, after being only moderately successful despite huge marketing spending, Columbia Pictures considered it a box office disappointment.
Author:
Paul Rudoff
Update This Review
Verdict
A true classic. Another 80's example of the perfect blend or comedy, horror, science fiction, and big-budget special effects. There has never been another film like it and there probably never will be.
Very funny, feel good comedy horror, suitable for family viewing.

Err... how can you knock Ghostbusters?
Rewind Rating
The Movie Data
Data
Release Date: 80 984
MPAA Rating: PG
Studio: Columbia Pictures
Production: Black Rhino Productions, Columbia Pictures Corporation, Delphi Films (as Delphi Productions)
Genre: Sci-Fi
Update The Data
The Movie Trailer
Jump To: Music & Soundtrack Vibes
Or use the menu to navigate
1984 Columbia Pictures
1999-2020 fast-rewind.com
V4_27 Powered by Rewind C21 CMS