FILMFACTS
PRODUCTION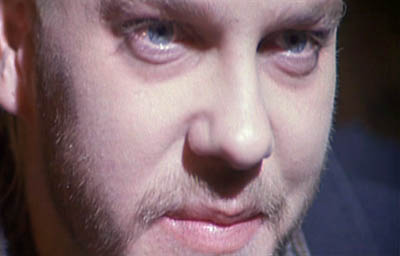 Production
Go behind the scenes on the 1987 Horror / Occult movie starring Jason Patric, Corey Haim, Dianne Weist More Cast
We believe the following info is all legit. If it's bogus or you have additional info, please update us.
In the scene where Sam and the Frog Brothers stake Marco (Alex Winter) while he sleeps they are pursued by the rest of the vampire gang as they try to escape back into the daylight. David (Keifer Sutherland) grabs Sam's leg but Sam manages to drag David's hand into the sunlight where it catches fire. A tear then slides down David's face as he clutches his hand in agony. Apparently, the tear running down his face was actually caused by Kiefer's contact lenses which were stinging terribly, but they decided to keep it in as it looked really good and was in context.
Several thousand local residents answered the casting call for family types, street people, punks, surfers, roller skaters and one "brain dead hippie". Some 2,000 of the applicants were signed for several nights work on what was the largest film production ever brought to the area at that time.
It's easy to forget how previous vampire movies had tended to have a lone Christopher Lee playing Dracula rather than the smart, sexy pack of vampires concept that this movie started. Much credit for the hip new vampire concept must go to Jeffery Boam, who went on to pen such classics as "Indiana Jones and The Last Crusade".
The movie was originally written as a bunch of "Goonie type 5-6th grade kid vampires". Joel Schumacher liked the title but hated the concept, so he changed it.
Apparently the Santa Cruz chamber of commerce was not keen on reliving the "Murder capital" moniker, which had been hung on Santa Cruz during a serial killer's rampage in the 70s.
Thanks to
Hollis &Amp; Becky Parsons
Corey Haim and Brooke McCarter (one of the vampire gang) got on so well during filming that McCarter became Haim's manager in the early '90s.
Jami Gertz was actually recomended by Jason Patric. Joel Schumacher was originally looking for a blonde. They had both previously starred in a movie called "Solar Babies" and is probably the reason why he recommended her.
The contact lenses used on the vampires could only be kept in for three seconds because they covered the entire eye and were very thick. When Keiffer cries after Marco is killed, it's from pain, but looks effective as a plot line.
Glitter was mixed into the blood used when the vampires explode; it gives a shine and sparkle.
Next Section: Deleted Scenes
Deleted Scenes
There are often scenes cut from the final version of a movie. Sometimes these will have been seen by preview audiences, or be included in Blu-ray or DVD extras etc.
The following missing scenes from The Lost Boys are believed legit. If you disagree or have additional info, please update us.
There was a scene where Lucy came out of Max's store, David, Dwayne, Paul and Marko would ride around her the leave when Max appeared.
Next Section: Alternate Versions
Alternate Versions
Sometimes, there will be several versions of a movie floating about on cable, tv or video etc. Other times, a Director may release a special cut of the movie on Blu-ray or DVD.
Aw, man.. We don't know of
any
alternate versions of "The Lost Boys". If
you know
better, please
add one
for others to enjoy.
It's quick & easy
Jump To: Filming Locations
Or use the menu to select another option
1987 Warner Bros.
1999-2018 fast-rewind.com
V4.0b Powered by Rewind C21 CMS