PLACES
LOCATIONS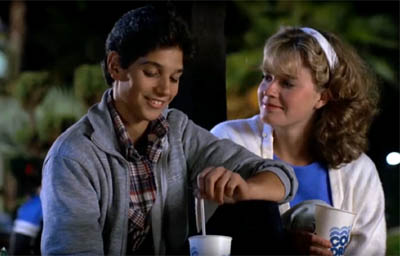 Locations Notes
Rewind the locations where they filmed the 1984 Martial Arts movie starring Ralph Macchio, Pat Morita, Elisabeth Shue More Cast
Locations Manager(s):
Richard Davis Jr
The Karate Kid Filming Locations:
Featured
Wanna see the real life filming location used for Daniel's Apartment Building in the movie?

These scenes were actually shot at The "South Seas" Apartment Building, located in Reseda, S. California. Google Map
If you've listened to the filmmakers commentary on the DVD/Blu-ray, you'll have heard that Daniel's apartment complex has been demolished. We're pleased to tell you that this is completely untrue... It's still there, but for how long..?
Ali's mansion was at 4072 Alonzo Avenue in Encino
[Map]
One of the two extiors for the Cobra Kai (when Daniel is having lunch with his mom) is now a place called The Hair Shop at 5376 Wilshire Blvd
[Map]
and is less than a block away from the United States post office at 5350
[Map]
which was the protest in front of the Golden State Savings and Loan in the 1993 movie Falling Down. The other Cobra kai dojo was located
[here]
at 5223 Lankershim Blvd. Los Angeles, CA 91601. Its the same one as famously seen in the movie "They Call Me Bruce". [Thanks to Chris]
The Encino Oaks Country club was filmed at the Calabasas Country Club at 4515 N Park Entrada in Calabasas
[Map]
They went miniature golfing at Golf 'N' Stuff at 10555 Firestone Blvd, in Norwalk
[Map]
The tournament took place at the Matadome at California State University Northridge (CSUN) at 18111 Nordhoff Street in Northridge.
[Map]
[Thanks to "Mountain Mike" Johansen]
See the link to our award winning locations tour.
Can you help? Particularly with The country club (verify), Ali's mansion, the road where Daniel is knocked off his bike.? Please

Update Us
Locations Links
Following is a recommended link:
A tour of all the locations
Next Section: LX Preview
LX Preview
LX is our radical new locations feature that we've been beavering away on.. For years!

Each location will have it's own page with then/now pictures, maps, StreetView, discovery story and the most detailed explanations on how the location was used. Most importantly, the locations will have a status that shows whether they are verified correct and by whom. We are working with the actual locations managers or other crew where possible. The whole thing will be very interactive and you will, of course, be able to update everything.

We are pleased to be able to bring you a sneak peek at what LX locations will be available for The Karate Kid upon release:

Mr Miyagi's House
Daniel's Apartment Building
The Cobra Kai Dojo
Golf N' Stuff
Orient Express Restaurant
Ali's mansion
Encino Oaks Country Club
Miyagi Turbo bike crash hill
Miyagi Turbo bike crash road
The lake
Travelling Montage - Farm
Travelling Montage - Cacti
Opening Montage - Shot #2
Opening Montage - Shot #3
Opening Scene - New Jersey
Travelling Montage - Rock Wall
Travelling Montage - Motel
Travelling Montage


Preview Icon Key:

Verified Correct
Probably Correct
Proposed
Probably Wrong
Wanted

Please Note: The status of some entries in this preview may be wrong because they are in-progress or need updating before release.
Jump To: Bungles & Goofs
Or use the menu to select another option
1984 Columbia Pictures
1999-2018 fast-rewind.com
V4.0b Powered by Rewind C21 CMS