FILMFACTS
PRODUCTION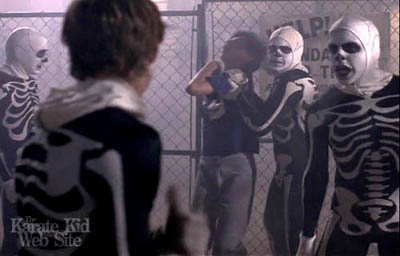 Production
Go behind the scenes on the 1984 Martial Arts movie starring Ralph Macchio, Pat Morita, Elisabeth Shue More Cast
We believe the following info is all legit. If it's bogus or you have additional info, please update us.
The movie was filmed at authentic San-Fernando Valley locations to give the realism that the director was searching for. Exclusively visit the filming locations at our site, listed in the links section.
In an interview with ESPN Classic, Ralph Macchio explained that the crane kick was actually supposed to be done with one leg. As we know, his left leg was hurt by Johnny in the tournament. He was supposed to be able to put the left leg up in the crane and jump high enough with the right leg to both use it to kick and then land on it again, but Ralph couldn't do it and refused to let the directors hire a double to perform it. Ralph credits Billy Zabka's (Johnny's) reaction to the kick as a way of not noticing it, but you can see he does land back on the injured left leg, but he quickly switches so that he's standing on the good right leg again.
Pat E. Johnson, who choreographed the fight scenes is an actual champion of Tang Soo Do, an art which he learned in Korea in exchange for English lessons.
The role of Daniel LaRusso was allegedly initially offered to Sean Penn. Since Penn was trying for more adult roles he turned it down.

Penn later said in an interview that he thought Ralph Macchio was one of the greatest living actors.
Pat Morita (Miyagi) himself designed the bonsai logo that was sewed onto Daniel's gi.
The long crane shot used as our heroes enter the All Valley Tournament arena took 36 takes to get just right!
Writer Robert Mark Kamen, had previously written "Taps" (1981) and "Split Image" (1982).

He was chosen by the producers because of he was an experienced student of karate and based many of the characters on his own experiences. He submitted his first draft in Sep 1982.
Next Section: Deleted Scenes
Deleted Scenes
There are often scenes cut from the final version of a movie. Sometimes these will have been seen by preview audiences, or be included in Blu-ray or DVD extras etc.
The following missing scenes from The Karate Kid are believed legit. If you disagree or have additional info, please update us.
A wooden man type of training device called "Mr Hashimoto" was supposed to be used for many of the training scenes.

Despite large sums spent on it by the production, it never worked out but re-appeared in Karate Kid part 3
Next Section: Alternate Versions
Alternate Versions
Sometimes, there will be several versions of a movie floating about on cable, tv or video etc. Other times, a Director may release a special cut of the movie on Blu-ray or DVD.
The following versions of The Karate Kid are apparently real. If you disagree or have additional info, please update us.
The UK cinema version was cut by 19 secs by the BBFC and completely removed the scene of Johnny rolling and lighting a joint for a PG certificate. Later video releases were uncut and the certificate upgraded to 15.
NBC edited 6 minutes from this film for its 1987 network television premiere.
AMC's airing of the film cuts out the scenes in which Johnny and friends talk to Alli and Daniel outside Golf N Stuff, and the scene in which Miyagi deals with the delinquents setting beer bottles on his car. Also cut from AMC airings are the scenes in which Daniel talks to a history teacher, the bathroom footage of Johnny rolling a joint (though the action is still referenced), and a frame in the scene where Miyagi rescues Daniel from the Cobra Kai guys (the frame of Miyagi kicking one of the guys in the crotch area is removed.)
An alternate ending (included in the script) was filmed and added to some theater releases. It was edited out of later theater versions and video editions. This ending, in which Mr. Miyagi and Kreese have a showdown after Daniel wins the All Valley Championship, is included in the prologue of The Karate Kid Part II.
Jump To: Filming Locations
Or use the menu to select another option
1984 Columbia Pictures
1999-2018 fast-rewind.com
V4.0b Powered by Rewind C21 CMS