Songs
The pop soundtrack was, in the past, quite rare on CD, having only ever been released in Australia in that format. The soundtrack doesn't contain one of the movies most popular songs, "Cruel Summer" by English 80's girl group, Bananarama. Having this song released in the movie, brought this group to life in North America.
The following song tracks were featured in
The Karate Kid
:
Track names in Bold are linked to a Soundtrack release.
Moment of Truth - Survivor
(Bop Bop) On the Beach - The Flirts, Jan & Dean
No Shelter - Broken Edge
Young Hearts - Commuter
(It Takes) Two to Tango - Paul Davis
Tough Love - Shandi
Rhythm Man - St. Regis
Feel the Night - Baxter Robertson
Desire - Gang Of Four
You're the Best - Joe Esposito
Cruel Summer - Bananarama
The Ride - The Matches
Please Answer Me - Broken Edge
Are We Missing Any?
Song Trivia

For Karate Kid fans, the most 'legendary' unreleased song from the movie was featured in the beach fight scene.
The song, called "The Ride", by band 'The Matches', has finally been
officially released in mp3 format
, both individually and in the form of a 5 track EP.
It is a must have for any Karate Kid fan. Thanks for this should go to band member and song writer Geoffrey Rose, who has managed to get his music released! The other unreleased song by Broken Edge called "Please answer me" is so far not released, but it is rumoured to exist in some format!
Add some more trivia about the songs used in The Karate Kid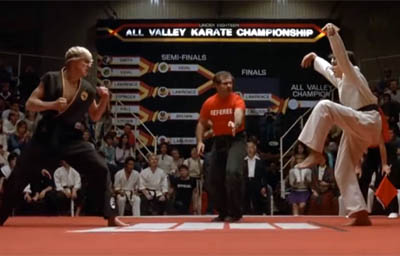 1984