REWIND
REVIEW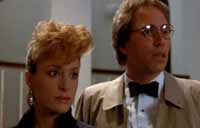 Starring
Barbara Williams, Steven Bauer, John Getz, David Caruso
Christine Ebersole, George Wendt, Alan North, Romy Windsor, Joe Nesnow, Gordon Pulliam, David McElhatton, Annette Sinclair, Aleana Downs, Jane Marla Robbins, Ray Hassett, Marcia Wolf, Brenda Currin, Cindy Lambert, Richard Holley Update Cast
Review
Mickey Davis (Williams) is an interior designer. Her sense of color and style is perfectly attuned to the mid-80s. Her husband Ray (Getz) writes books (albeit childrens' ones). With so much creativity in their respective jobs, you think they might be able to put some interesting spins on their love life. The relationship is a rather vanilla one, unfortunately. Mickey's desires... Her passions... Her sensuality... are all captured in the diaries she writes. This is going to come back to haunt her, though.

Scott Muller (Bauer) is a cat-burglar/drifter. He and his partner Buddy Calamara (Caruso) live in an old warehouse, decorated with the "treasures" they've managed to plunder. Muller has recently broke into the Davis' house. Enraptured by a large portrait of Mickey, he takes down her visages and breaks through doors and drawers to gain her books. He reads them to the letter and makes it his mission to fulfill Mickey's desires to a near-deadly level.

We all know of the major Simpson/Bruckheimer titles of the 80s. We "danced for our lives" to "Flashdance", laughed at "Beverly Hills Cop" and felt "the need for speed" with "Top Gun". These titles have all gained acclaim and been considered classics of 80s cinema (as evidenced by the fact that each of these movies has made it on to at least one AFI list). "Thief Of Hearts" seems to have fallen in-between the cracks, though. I'm trying to figure out why people forgot about this movie and I think it might be this fact:

This movie is a thriller, but it's one that burns slowly. Your typical Simpson/Bruckheimer had a "WHAM!" factor to it. "Flashdance" strikes you with a pounding soundtrack. "Beverly Hills Cop" draws your attention with a car chase. "Top Gun" was sheer force so you couldn't not notice it.

This movie doesn't have a "WHAM!"...It has more of a silent thump, like something you hear in the middle of the night. This is representing by Scott's burglary. The quietness is where the kick lays. When the heavy moving begins, the adrenaline slowly starts pumping. It continues until near the end of the movie when your mind is throttling with wondering what will happen next.

Another aspect of this movie is how the characters don't present themselves as black-and-white caricatures...They define the phrase "shades of grey". Williams' portrayal of Mickey makes her out to be a woman of wanting. Even those who have the moon will ask for the stars and Mickey is no different. She has good money and her mind flows like a river but her life is making the water stagnate. Getz' portrayal of Ray is another complex one. He seems genial enough, but he is emotionally abusive. He has a beautiful wife whom he neglects in favor of his writings. He's built up an emotional wall, but you can see that he left a few bricks out. He still has a love for her, but to exhibit it he'll need reciprocity. Does he get it?

Now we come to Bauer's portrayal of Muller. He reverses himself back and forth. In one sequence he's a thieving sleaze. In the next one he's a hopeless romantic. One wonders where his character will head next. His appearance is that of the chiseled stud that appears on the cover of the romance novels so favored by wanting women. Mentally, though, you get the sense that his sanity has been detered by the fever visions of passion that Mickey's letters engulf him in. With his performance, he comes across as both a woman's best dream and her worst nightmare.

In addition, I would like to say a few words about Caruso's portrayal of Calamara. He manages to look like a brother to both Johnny Rotten from the Sex Pistols and Ruttheimer from "Daria" (the only worthwhile show to ever air on MTV). His performance carries both the snot-nosed rage of the former and the juveline lechery of the latter. He's a depraved and corrupt man always on the hunt for women...With that description, I also think of him as perhaps reminiscent of this movie's co-producer Don Simpson. Both were rather funny and jovial on the outside, but on the inside their souls were filthy and rotting things that were being corroded by illegal activities.

Fantasy can be a strange thing...
Author:
John Edward Kilduff
Update This Review
Verdict
Although told from a woman's perspective, I think we can all relate to wondering what would happen if our visions came true. This movie ripples with intense passion and plot curves of such severity that they can cut you if you're not careful.

Williams has the classy-yet-sexy look that came to define women in these types of stories throughout the decade. It's too bad that she only does independent films now... I really think she's quite talented. Getz is great at playing the role of the cuckold who has to take charge when his marraige is about to crumble.

Bauer Americanized his Manny Ray from "Scarface" and came out with a great performance as a criminal lothario. His is another star that never quite manifested itself as it should've. Still, I think he's another great talent. Caruso is really good at playing sleazes. I mainly know him as a good guy from his work on the 90s hit "NYPD Blue" and this decade's "CSI: Miami". If he had stuck to playing ultra-creeps then perhaps his career might have turned out differently. Christine Ebersole and George Wendt provide comic relief as (respectively) Mickey's co-worker and Ray's literary agent.

Finally, let's get behind-the-scenes. Douglas Day Stewart crafted a magnificent piece as both writer and director. He had a great flair for capturing both the good and bad sides of passion. Harold Faltermeyer's score captures the quiet intensity of San Francisco in the same way that his work on the same year's "Beverly Hills Cop" captured the boom and the zoom of that Californian locale.

Most importantly, there is Ferdinando Scarfiotti. I don't think any production designer captured the feel of the 80s as much as he did. He took the beauty and the decadence of a movie's script and adapted it to the sets, surrounding the actors with visual representations of their emotions, both benign and malign.

This movie is one of those hidden treasures that's gotten lost in the history of the decade's cinema. Find it and give it a spin... You won't be disappointed.
The script is rivetingly passionate, the music is quietly stirring, the performances are great and the design is a knock-out.

The additional scenes should've been included on the DVD (see trivia)...
Rewind Rating
The Movie Data
Jump To: Music & Soundtrack Vibes
Or use the menu to navigate
1984 Paramount Pictures
1999-2020 fast-rewind.com
V4_27 Powered by Rewind C21 CMS