REWIND
REVIEW

"
A story about brotherly love, life and the gifts we never see.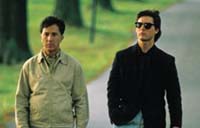 Starring
Tom Cruise, Dustin Hoffman, Valeria Golino, Gerald R. Molen
Jack Murdock, Michael D. Roberts, Ralph Seymour, Lucinda Jenney, Bonnie Hunt, Kim Robillard, Beth Grant, Andrew Dougherty, Dolan Dougherty, John-Michael Dougherty, Marshall Dougherty, Peter Dougherty Update Cast
This movie holds the unique distinction of being the only film to have won the Berlin Film Festival Golden Bear and a best picture Academy Award.
More Trivia from Rain Man
Review
Tom Cruise had to prove himself: He wanted to prove he was more than a poster-boy fighter pilot ("Top Gun"), more than the grinning barman ("Cocktail"), a smiling hustler ("The Color Of Money"), or the high-voiced football player ("All The Right Moves"), even being the guy who could shimmy, dressed only in a pair of boxers ("Risky Business"), wasn't enough...

This was his chance... did he make it? Does Iceman fancy Maverick?

Of course he did. Cruise excels as ruthless car dealer Charlie Babbitch in Barry Levinson's ('Diner') profound, occasionally humorous, film about brotherly love and finding out what's really important in life.

Charlie has always been out for himself and only cares about claiming the inheritance from his late father's will. Unbeknown to him; the years of estrangement led his Dad to leave everything to Raymond (Hoffman), an autistic brother Charlie never knew he had.

When he finds out what's going on, Charlie lures Raymond out of the asylum in an attempt to take him back home. Raymond refuses to fly and so the long lost siblings form an uneasy relationship on the highways and byways across the country towards L.A...
Author:
Kashif Ahmed
Update This Review
Verdict
Based on a true story, Rain Man is a funny, dramatic and surprisingly touching piece of filmmaking, one which allows both actors to really earn their pay-checks, turning what is ostensibly a story about autism and brotherly love, into a road-movie par excellence.

Tom 'Give The Man An Oscar' Cruise delivers yet another astoundingly powerful performance and you can't help but think that the Academy's never going to give him an award. Cruise plays against type to present an inherently flawed, bitter and twisted character, who sets out on mammon's brutal highway, but somehow manages to end up on the long road to redemption and though Dustin Hoffman may have (deservedly) won the Oscar, it was Tom Cruise's portrayal of the younger Babitch brother which stole the final scene; thus proving that old cliché: "...the first part of good acting, is reacting"

Rain Man is essentially a feel good film that lays off the schmaltz and allows the acting and well written script to speak for itself. And although the press didn't get its' chance to savage Cruise (because he was good) Hoffman's performance is one that divides critics as much as Al Pacino's in 'Scent Of A Woman'.

And though some people might argue that Dustin goes over at times, I'd say he vindicates himself completely throughout the course of this film. For the scene where Raymond freaks out because of a smoke alarm, is classic method acting, which still has the power to move even the most cynical viewer and if the offbeat hilarity of the Vegas trip wasn't enough, the final scene packs the kind of heart wrenching poignancy that might've sent a lesser movie over the edge... but Levinson holds things together and so Rain Man becomes a contemporary classic; the kind of film you can watch again and again without ever getting bored. Whilst it may take some time to get in to, once these characters come alive on screen; you're in, and it's just as well, for Rain Man is a must see.
No explosions, nor a gun fired, Rain Man probably changed the way many of us look at films, a perfect example of old-school direction and literary characterisation.

Not a one.
Rewind Rating
The Movie Data
Data
Release Date: 16 Dec 1988
MPAA Rating: R
Studio: United Artists
Production: United Artists, Guber-Peters Company, The, Mirage Entertainment, Star Partners II Ltd.
Genre: Drama
Update The Data
The Movie Trailer
Jump To: Music & Soundtrack Vibes
Or use the menu to navigate
1988 United Artists
1999-2020 fast-rewind.com
V4_27 Powered by Rewind C21 CMS