REWIND
REVIEW

"
Suddenly, life was more than french fries, gravy and girls.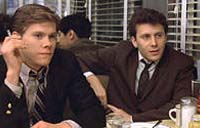 Starring
Paul Reiser, Timothy Daly, Kevin Bacon, Steve Guttenberg
Mickey Rourke, Daniel Stern, Ellen Barkin, Kathryn Dowling, Michael Tucker, Jessica James, Colette Blonigan, Kelle Kipp, John Aquino, Richard Pierson, Claudia Cron, Tait Ruppert, Tom Tammi, Pam Gail, Lauren Zaganas, Sharon Ziman, Mark Margolis Update Cast
Barry Levinson actually wrote the ill-fated "Toys" first, which he co-wrote with then-wife Valerie Curtin in 1981. He wanted this to be his directing debut but the project was shelved. Levinson turned around and wrote a more personal story about growing up in Baltimore. MGM, thinking they were getting a low-budget teen romp, a sort of "East Coast American Graffiti," agreed to bankroll it. It eventually became "Diner".
More Trivia from Diner
Review
An engaging and original coming of age movie set in 1959, written and directed by then newcomer Barry Levinson (Rain Man). This is about a group of inseparable friends who aim to avoid the inevitable responsibilities of life, by hanging out at an all night Diner, and getting to grips with how things will change after Steve Guttenberg's upcoming marriage.

Diner has an impressive cast, a great script and some of the best ensemble acting this side of The Breakfast Club, and whilst it's detractors may argue that there's no real story, you'll be hard pressed not to enjoy some of the comic cut-scenes in the Diner itself. What with debates about 50s singers, the sandwich trade and how you should arrange your record collection alphabetically, in accordance with an obsessive compulsive set of rules, based on the merits/style of each artist; Diner occasionally imitates the hectic banter of a Mamet play.

The characters are so well cast, that you'll always relate to apprehensive slacker Steve Guttenberg, sensible Tim Daly, the indirect but amiable Paul Reiser, (un)happily married Daniel Stern and super-coiffed charmer Mickey Rourke, whilst not forgetting Kevin Bacon (Footloose), who plays isolated oddball Fenwick, like De Niro did Johnny Boy in Scorcese's "Mean Streets" (only not as psychotic!).
Author:
Kashif Ahmed
Update This Review
Verdict
The movie Diner was obviously a template for modern films like "Swingers" and "High Fidelity". I mean forget Top 5s, these guys had a 100 and something questions on football trivia for Steve's future wife, and get this- if she gets below a certain percentage, the wedding's off! (that could only happen in the 60's folks -nowadays the girl would probably display enthusiasm by whacking her sports fan fiancée square in the mouth with a Louisville slugger).

Although this is a buddy movie at heart, Diner has a surprisingly dark undertone, Daniel Stern's despondency towards his marriage to Ellen Barkin and the realistic portrayal of degenerate gambler Mickey Rourke's accumulating debts, makes this a film which explores friendship and responsibility from many different angles.

One of the main drawbacks for some people, will be the way in which its filmed to evoke the era (gives the movie an antique feel) but don't let that determine your decision to see this, for Diner is a very good movie, and a true 80's classic.
Convincing performances from all involved.

A humorous but realistic depiction of early 60s life

Female characters are a little under-represented.
Rewind Rating
The Movie Data
Jump To: Music & Soundtrack Vibes
Or use the menu to navigate
1982 Warner Bros
1999-2020 fast-rewind.com
V4_27 Powered by Rewind C21 CMS