REWIND
REVIEW

"
When he pours, he reigns.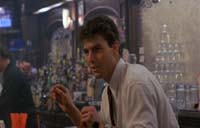 Starring
Tom Cruise, Elisabeth Shue, Bryan Brown, Lisa Banes
Gina Gershon, Kelly Lynch, Laurence Luckinbill, Ron Dean, Robert Donley, Ellen Foley, Andrea Morse, Chris Owens, Justin Louis, John Graham, Richard Thorn, Robert Greenberg (II), Sandra Will Carradine, E. Hampton Beagle, Richard Livingston, Jean St. James Update Cast
Cameos
Look for Andrew Shue making a cameo appearance!
Remember when Luke Skywalker allegedly calls Princess Leia 'Carrie' in "Star Wars"? well it's often said that Liz Shue does a Mark Hamill tribute in Cocktail with the immortal line; "one night stand tom". In fact it's "One night stand time" that she's apparently saying.
More Trivia from Cocktail
Review
Before adopting the moniker of 'serious actor' in films like "Born On The Forth Of July", Tom Cruise had one spare summer in 1988, (waiting for United Artists to complete the screenplay for "Rain Man"), and what better way to graduate, than this wholly nonsensical, but unashamedly feel-good film, which is basically "Top Gun" without the planes?

Cruise is in his element once again, as a young bartender who's determined to be the best, and (more importantly) flash a super-grin at every female within a 20 mile radius.

Aussie actor Bryan Brown (FX) replaces Kelly McGillis as the mentor (some change huh?) whilst the likes of Elisabeth Shue ("Karate Kid", "Adventures in Babysitting"), Lisa Banes, Gina Gershon and Kelly Lynch crop up every now and then, to either get it on / or argue with, Cruise.

After leaving the army, Brian Flanagan (Cruise) moves to NY in search of a better life, he decides to study for a Business degree whilst working in a bar, under the tutelage of old pro Doug Coughlin (Bryan), who shows the ex-serviceman that the (bar) TAPS of life is where it's at.

He advises him to look out for the wealthy women, so that he can realise a dream and open his own bar; Cruise listens, leaves his teacher behind and buggers off to Jamaica...

It's here that the movie begins to resemble Sunset Beach with good actors, as Flanagan meets seemingly impoverished artist Jordan Mooney (Shue) before promptly ditching her for an older (i.e. richer) woman (Baines) who takes our anti-hero back to Manhattan to live the life of an 80's gigolo.

However, unlike Oded Fher, Cruise can't adapt to this, and decides to make it up with Elisabeth who, in a twist of near Shakespearian genius, turns out to be super-rich as well.
Author:
Kashif Ahmed
Update This Review
Verdict
"Cocktail" or 'Top Glass' is the kind of movie you'd be more than happy to see on an idle Tuesday afternoon, or on the day you begin your summer vacation. Either way, there's no denying that it's a cult classic, an intoxicating concoction in itself; mixed with some decent acting, a catchy soundtrack and people mooching around trying to be cool, it's principal issues revolve around the pursuit of wealth and the rejection of materialistic ideals (quite topical in the 80's) and although these characters are walking clichés, a testament to the lost art of self delusion and complete denial of anything resembling reality, Cocktail is the kind of movie which will leave even the most jaded viewer thinking that life is really fun, a laugh, and quite honestly, a bowl of cherries.

"Cocktail" works only as a 'Tom Cruise Vehicle' allowing the man an overblown opportunity to capitalise on his fame, and why not? Poster sales increased, people started to order the Singapore Sling; and all summer long we had winos fumbling around with blu-tack; everybody's happy, everyone had a good time, so what if the story's about as coherent as drunkard knocking em' back at an EU regulated bar? This glass is half full, for like the man says: "...America you're just devoted to every flavour I've got, but if you wanna get loaded, why don't you just order a shot?..." Indeed.
A well acted, cautionary tale about hedonism, friendship and fidelity…with cool music

Started a trend whereby everyone who had access to a bottled alcoholic drink thought they were Tom Cruise!

A sometimes unrealistic storyline
Rewind Rating
The Movie Data
Jump To: Music & Soundtrack Vibes
Or use the menu to navigate
1988 Buena Vista Pictures
1999-2020 fast-rewind.com
V4_27 Powered by Rewind C21 CMS