REWIND
REVIEW

Born On The Fourth Of July
"
A story of innocence lost and courage found.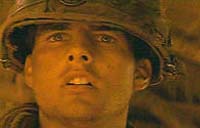 Starring
Tom Cruise, Kyra Sedgwick, Raymond J. Barry, Jerry Lavine
Frank Whaley, Caroline Kava, Seth Allen (II), Anne Bobby, Amanda Davis, Josh Evans, Erika Germinder, Jason Klein, Bryan Larkin, Samantha Larkin, Jerry Levine, Kevin Harvey Morse, Jessica Prunell, Bill Allen, James LeGros, Sean Stone, Jamie Talisman, Jenna von Oÿ Update Cast
Early Appearances
See Vivica A. Fox, William Baldwin, Daniel Baldwin, Holly Marie Combs before they were famous!
Cameos
Look for Ron Kovic, Willem DaFoe, Mel Allen making a cameo appearance!
Review
After his foray into the world of sarcastic talk show hosts who ridicule their callers in 'Talk Radio' (1988), Stone returned to his war-torn experiences with another masterpiece, the story of Ron Kovic's (Cruise) personal odyssey from the American dream through to the nightmare that was Vietnam.

Here was a proud Marine who gave half his body, manhood and future for the war, he would be the sole focal point in 'Born On The 4th Of July' an unrelenting moving account of his struggles through pain, courage and the burdens of patriotism.

Recreating two-thirds of the man's life, Stone's widescreen epic sees the young Ronnie at high school competing hard in the wrestling team, his desire for glory and success lead him to submit to the ultimate sacrifice.

After a visit from Tom Berenger's, uniformed Marine Sergeant at the high school, Kovic decides to leave his loved ones behind and enlist, just as his father had. The yankee doodle dandy patriotism he believes will prevail turns sour when Kovic is wounded and crippled in battle, what follows is his struggle to be accepted both in his own mind and on return to his homeland.

Society rages at their countries involvement in the war. President Nixon fails to act on the anger and bitterness seen across campus demo's, with alienated students protesting against conflict. Kovic returns to a mixed welcome, it seems he and other vets are part of the problem and his high school love (Sedgewick) is deeply involved in the rallies, they are reunited somewhat and through her, he discovers the reality behind the war, and his mind begins to alter his views on the country he loves.

Portraying a character that has undoubtedly groomed him into the respected actor he is today, Tom Cruise is excellent, searching within his soul to feel the pain and anguish that is Kovic's life. The picture is justifiably long, chronicling the stages of positive shift in the characters mind, the camera-eye of Stone always ensuring dramatic quality with a knowledge of human spirit and behaviour.

"Escaping" to a remote Mexican town, a haven for outcast crippled vets, we encounter Kovic's kindred spirits, among them Willem Dafoe and Tom Sizemore, they introduce him to the alcohol soaked life they now wallow in, along with the dark skinned whores who in their own way help to exorcise the demons and uplift the deflated spirits of those shorn of precious manhood.

Cruise reaches dark recesses as the tears flow for real during his liaison with a Mexican whore, it is here in a oasis of hope in the desert that the character finally decides to face his predicament. The film won Best Director for Stone with Cruise being nominated for Best Actor, perhaps more importantly, it illuminated the courage of Ronnie Kovic's journey from negative darkness into positive light.

Costing $40 million and exhausting its director and stars... 'Born...', was a huge success story, not only did it receive accolades from the film world it also helped Kovic to have his story told with due conviction and style. For Stone it was a return to the brutality of his own past, and like Cruise he too would feel the pain of Kovic's plight, the subject matter once again enabling all involved to create a film of some emotion. Stone and Kovic had reservations that Cruise had the depth required to pull off the role, the star had just finished 'Rain Man' and was confident that he had the right stuff for the part. Nominated for Best Actor, he had to dig deep to find the emotions to play this man at war with his own consciousness.

The Vietnam scenes on the sand dunes when his platoon are ambushed are handled with accuracy and zest by the director, using slow motion to dramatic effect, insisting the crew get the shots he wanted, chasing the sun with equipment as it faded and vanished beyond the horizon.

All performances are excellent, including an effective cameo for Willem Dafoe whose blunt statements and actions help the character to come to terms with his life.
Author:
Nik Allen
Update This Review
Verdict
This was a proud film to be involved in for its creators, it never fails to engage the viewer, the realism is at times hard to take, as in the New York Casualties of War Vets Hospital where Kovic lies suspended. The appalling conditions with vomit and feces on the floors of the ward, needless to say with Oliver Stone that this set design was for real!.

The sufferance of the man (actually born 4th July) along with his family, friends and indeed America itself during these times is brought to life again by the mesmerizing Stone who pushed himself and Cruise all the way and retracted something very special.
Fantastic performance, direction and script.

Not a movie that can or should be watched lighty.
Rewind Rating
The Movie Data
Jump To: Music & Soundtrack Vibes
Or use the menu to navigate
1989 Universal Studios
1999-2020 fast-rewind.com
V4_27 Powered by Rewind C21 CMS