REWIND
REVIEW

Private School
R
AKA: Private School... For Girls
"
You Won't Believe What Goes On And What Comes Off In...
Starring
Phoebe Cates, Kathleen Wilhoite, Betsy Russell, Matthew Modine
Michael Zorek, Fran Ryan, Ray Walston, Sylvia Kristel, Jonathan Prince, Kari Lizer, Richard Stahl, Julie Payne, Frank Aletter, Frances Bay, Bill Wray, Karen Chase, Burke Byrnes Update Cast
Cameos
Look for Martin Mull, Paula Abdul making a cameo appearance!
Review
Cherryvale Academy is a prestigious private school for children of wealthy parentage. Under headmistress Miss Dutchbok (Ryan), the lovely young women are being taught for the bright futures that awaits them.

Unfortunately for Dutchbok, she has 3 problem students on her hands. Christine Ramsay (Cates) is probably the least to follow temptation, sticking with Jim Green (Modine), her love from the nearby boys' private school. Still, she's not above the occasional gag. Her roommate Betsy (Wilhoite) is more the joker of the trio. Cutting up cheerleader's uniforms and tossing flaming bags of dog waste in front of her dormmate's doors are the types of pranks she's into. The most troublesome girl on Dutchbok's hands is a beautiful and intensly passionate girl-woman named Jordan Leigh-Jensen (Russell). Jordan has her eyes on Jim and is willing to do anything to win his devotion, even riding a horse topless in order to catch his eye. Before the girls graduate, they'll discover the highs and lows of young love, with humor and plenty of T&A.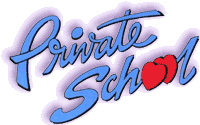 I enjoyed this movie. I'm a sucker for a good teen comedy and this one is quite cool. Right from the beginning when we hear Harry Nilsson's "You're Breaking My Heart", you know that the movie is going to have a raw sense about it. The performances are uniformily good. Cates knows how to play the role of a student discovering the facts of life... After all, her training ground (with swimming pool and red bikini included) was "Fast Times At Ridgemont High".

Russell can match Cates on her own level and manages to bounce it up a little more (literally in the aforementioned horseback riding scene)!

Finally, we arrive at Wilhoite. She is the type of actress I call "The Diamond Girl" (after Nice 'N' Wild's freestyle hit of the same name). She earns this phrase because she always shines no matter what, often giving the only good performance in a movie. Maybe it's the personality... the voice... or even the eyes (The right one is blue-green and the left one is brown), but I feel she's the most beautiful and talented out of the main female cast.

On the guy's side, Matthew Modine shows a comic style that's light-years removed from his work in movies like "Full Metal Jacket". He hasn't done that many comedies... I think he should do more.

Zorek is another comic talent. With his performance, he sort of served as a bridge between the gonzo comedy of the late John Belushi and the physical stylings of the late Chris Farley.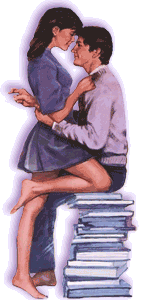 The late Ryan was another swell talent... She had a natural way with lines that came from the experience of working in films since the 60s. The late Ray Walston (another "Fast Times" alumni) has a hilarious bit part as a horny chauffer named Chauncey, who ends up in a clinch with Miss Dutchbok, who mistakes him for Leigh-Jensen's wealthy father. Sylvia Kristel rounds out the main cast with a small role as a sex education teacher who turns the fathers of the female students into slack-jawed teenagers with her looks.

Despite my praise, this movie is the perfect example of the phrase "fish with feathers". The phrase basically connotates that what's being sold is an odd product that might have difficulty finding an audience.

What makes this movie odd is that it's quite androgynous in audience appeal: The sex jokes and nudity are right out of movies like "Porky's", while at the same time the interpersonal dynamics of the movie are reminiscent of "Valley Girl" or the following release year's "16 Candles" (I say that because although released in 1983, the movie has a 1982 copyright date plainly visible at the beginning of the movie).

Cates, Wilhoite and Russell are quite pretty and Modine is quite handsome, but this makes the androgyny conceit all the more valid: What gender is it?
Author:
John Edward Kilduff
Update This Review
Verdict
The way I see it, there were 2 types of movies in the 80s: Chick flicks and guy movies. The twain often met with success ("Top Gun" and the works of Arnold Schwarzenegger and Sylvester Stallone come immediately to mind). Other times, the combo went over like a lead zeppelin ("Streets Of Fire", a combination of action-movie and musical, bombed despite how good it was). Some of them just stood around looking odd.

This movie, despite the humor and great cast, doesn't exactly fly. At the same time, it doesn't fall either. If the teen movies of the 80s were a clique, then "Private School" could be seen as the nerd of the group...Funny, somewhat good-looking, but just a little too much of an oddball to have an audience clasp the film to its' bosom.

I recommend the movie for a night in...Give your brain a rest, grab a bowl of popcorn and take a good look at the "fish with feathers".
The humor and the cast, most especially Kathleen Wilhoite and Michael Zorek.

The movie isn't quite sure what audience it's appealing to.
Rewind Rating
The Movie Data
Key Crew
Director: Noel Black
Writer: Dan Greenburg, Suzanne O'Malley
Producers: R. Ben Efraim, Don Enright, Lane Maloney
Locations Manager: Barry Caillier, C. Robert Holloway
Update The Crew
Data
Release Date: 29 Jul 1983
MPAA Rating: R
Studio: Universal Pictures/Unity
Production: Unity Productions, Universal Pictures
Genre: Comedy
Update The Data
The Movie Trailer
Jump To: Music & Soundtrack Vibes
Or use the menu to navigate
1983 Universal Pictures/Unity
1999-2020 fast-rewind.com
V4_27 Powered by Rewind C21 CMS