REWIND
REVIEW

Fast Times At Ridgemont High
"
Dude, doesn't that stuff give you brain damage?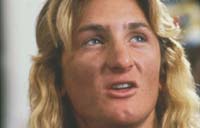 Starring
Sean Penn, Judge Reinhold, Nicolas Cage, Phoebe Cates
Robert Romanus, Brian Backer, Jennifer Jason Leigh, Ray Walston, Scott Thomson, Vincent Schiavelli, Amanda Wyss, D.W. Brown, Forest Whitaker, Kelli Maroney, Tom Nolan, Blair Tefkin, Stanley Davis Jr., James Russo, James Bolt (II) Update Cast
Early Appearances
See Nicolas Cage, Eric Stoltz, Anthony Edwards before they were famous!
Cameos
Look for Cameron Crowe making a cameo appearance!
To develop the idea, Cameron Crowe actually spent a year at Clairemont High School in San Diego posing as a student. This was done with the permission of the school administration and allowed Crowe first hand exposure to the realities of the American high school experience in the early 1980's. The characters in the book and movie are based on real people and all of the events described in the book and film actually happened.
More Trivia from Fast Times At Ridgemont High
Review
Fast Times At Ridgemont High is a true 80's masterpiece, capturing the culture of the period like a time capsule.

Written by "Say Anything" and, more recently, "Almost Famous" writer director Cameron Crowe, Fast Times is the film version of his novel that resulted from a spell undercover in a Californian High School.

Whilst receiving little critical acclaim or awards, the fact remains it is in fact a very well made movie, with many catchy one-liners and comical characters. Despite the studio hating the movie upon completion, it went on to great success and remains one of the most influential teen movies of trhe decade.

Rather than the popcorn fluff view of high school, Crowe and Heckerling show a revealing and accurate cross section of the student body, with their aims and desires (both good and bad) on show for all to see.

The story centers around no one person, instead showing the events that occur in the lives of several of the broadly different "clicks" of students that attend Ridgemont High.

The surfers and their clan, the girls and the dweebs stories are all intertwined, with their social and economic centers being focussed on "the mall". This is a masterstroke because by not tying itself down to one main character, it has the ability to show us the highs and lows of all walks of life.

Although a very funny movie in many parts, the film also contained many serious messages, like the true nature of abortion and the repercussions of unprotected sex.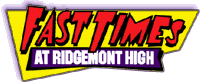 Perhaps the most memorable character in the movie is the "spaced out" "surfer dude", Jeff Spicoli (Sean Penn). His antics in Mr Hand's class are nothing short of hilarious and it is in the pizza delivery scene that we see the debut of Russell the pizza boy, who was later destined to become yet another pizza boy in a masterpiece of the 90's, "Bio Dome".

The movie shows the good, the bad and the ugly, all present in any high school, all warmly wrapped up in a package that seems very nostalgic.

This movie is a true piece of 80's nostalgia, portraying the decade perfectly. It also introduced a scary number of Hollywood's brightest stars including Nicolas Cage, Judge Reinhold, Sean Penn, Antony Edwards, and Jennifer Jason Leigh.
Author:
Chris Shipp
Update This Review
Verdict
Fast Times is a serious movie, it is no laugh fest from beginning to end, this will appeal to many to have a side of seriousness with the main comedy course, but to others it may just frustrate.

The acting is done very well and is a credit to almost all of those involved, but perhaps it can be said that the female characters in this movie come accross as a little too material for their own good.

The 80's portrayed as it was, cutting out the "try hard" decade references and still managing to retain the decade theme.

Overall an "Awesome" movie that deserves you attention... And you can watch it every day for a month and not get brain damage, unlike Jeff's weed.
Hilarious but at the same time showing the consequences of ones actions...

No real main character.
Rewind Rating
The Movie Data
Jump To: Music & Soundtrack Vibes
Or use the menu to navigate
1982 Universal Pictures
1999-2020 fast-rewind.com
V4_27 Powered by Rewind C21 CMS