REWIND
REVIEW
"
She's Cool. He's Hot. She's From The Valley. He's Not.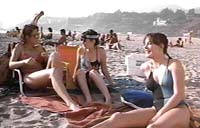 Starring
Deborah Foreman, Michelle Meyrink, Nicolas Cage, Heidi Holicker
Elizabeth Daily, Frederic Forrest, Cameron Dye, Colleen Camp, Michael Bowen, Tina Theberge, Lee Purcell, Richard Sanders, David Ensor (II), Joanne Baron, Tony Plana, Tony Markes, Christopher Murphy, Robby Romero, Camille Calvet Update Cast
Early Appearances
See Nicolas Cage before they were famous!
Cameos
Look for Prescott Niles, Wayne Crawford making a cameo appearance!
The Valley Girl sterotype was first popularized by Frank Zappa in his hit 1982 single 'Valley Girl' where he collaborated with his 14 year old daughter Moon Unit, who spoke in Valspeak in the song. The producers of this film asked Zappa if they could do a movie adaption of his song. Zappa declined but they made the film Valley Girl anyway. Zappa sued the producers of the film but lost the lawsuit.
More Making Of Valley Girl
Review
Get ready to grab your credit card, leg warmers and head band and go down to the Galleria for like a totally major shopping spree...

...Hanging out in the food court snacking on French fries you will most likely find Julie, Stacy, Susie and Loryn, the most "bitchin'" girls in the Valley.

That is what we see as the opening credits roll for Martha Coolidge's 1983 teen Romantic Comedy "Valley Girl". As the film begins with the catchy Pop tune "Girls Like Me" by Bonnie Hayes & The Wild Combo, the audience can be certain to classify it as a definite "Chick Flick."

The movie centers around the character of Julie Richmond and her three snobbish friends Stacy, Susie and Loryn. When we are first introduced to Julie she is considering breaking up her relationship with her boyfriend Tommy. They are basically the "class couple." Julie's friends think she's crazy for trying to end things with Tommy who is "like such a hunk."

As she is leaving the Galleria, Julie sees Tommy and officially breaks up with him -even giving him back his charm bracelet!

At the beach later, Julie spies Randy, a punk rocker from the wrong side of the valley played by Nicolas Cage. Loryn is talking about the big party that's happening later, while, unbeknown to her, Randy's friend Fred catches wind of the event. Fred convinces Randy that they should make an appearance at the Val party despite its lame locale.

Later at the party they manage to meet, despite Randy and Fred being thrown out by Tommy and his friends. Randy waits for what seems like an eternity in the bathroom for Julie and finally they meet and their differences draw them together.

After a night on the town with Randy, visiting all the places that any self respecting Valley girl would never go to, Julie starts to like him in a big way. This, of course, causes major cred damage with her crowd and they put her under big pressure to stay inside their social circle but Julie is falling for Randy and is torn between them.

Will she follow her heart or follow the crowd...?
Author:
Meredith Niksa
Update This Review
Verdict
One of the best teen Comedy films of the 80's and one of the ones most warmly remembered, Valley girl explores the theme of unfair teen social heirarchy in a similar way to so many other movies of the era...
Great 80's Soundtrack. Cool Clothes.

The length of the movie, could've been longer!
Rewind Rating
The Movie Data
Jump To: Music & Soundtrack Vibes
Or use the menu to navigate
1983 Atlantic Pictures
1999-2020 fast-rewind.com
V4_27 Powered by Rewind C21 CMS