MISTAKES
BLOOPERS
"
She's Cool. He's Hot. She's From The Valley. He's Not.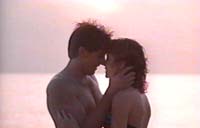 Oooopsy...
"Er, someone wasn't on top of their game that day..."
See the goofs, blunders and plain ole mistakes in the 1983 Teen Drama movie starring Deborah Foreman, Michelle Meyrink, Nicolas Cage, Heidi Holicker
Elizabeth Daily, Frederic Forrest, Cameron Dye, Colleen Camp, Michael Bowen, Tina Theberge, Lee Purcell, Richard Sanders, David Ensor (II), Joanne Baron, Tony Plana, Tony Markes, Christopher Murphy, Robby Romero, Camille Calvet Update Cast
We believe the following are all legit mistakes. If we've bungled it, or you have additional info, please update us.
Heidi Holicker herself wrote in to say "Hi! I played "Stacey" in VALLEY GIRL and there's lots of fun trivia to add. One thing that comes to mind, at the prom scene, I start out in a light blue prom dress and when I have food all over my face and "Fred" played by Cameron Dye helps me off the floor, I somehow have a cream colored slip on. What happened to my dress? Even I don't know!"
In Julie's parent's restaurant/shop, while she prepares the salad for the customer at the counter, she is wearing black pants, but after Randy comes in, her pants change to Blue suddenly coordinating with the rest of her outfit.
When Julie makes up with Tommy (sitting at the table with a burger and fries in front of her) - Tommy asks "is this what you want"? and puts the bracelet on Julies wrist. He doesn't do a good job and the bracelet doesn't lock in. Pay close attention - Julie has to keep her arm lying across the table to keep the bracelet on her wrist till the scene ends.
In the prom scene when Randy and Tommy were fighting and Randy went down the steps with Julie, Tommy's pants go from pink to black (a split second before the guacamole dip) and then back to pink.
Check out the limo at the end that they go to the prom in, then check out the limo after the fight scene and after on the way to the hotel... Two different cars! One is a formal limo (first one) and the second is a stretch limo...
When Julie is at Dupar's Restaurant, eating and Loryn, Stacey and Suzi enter. They sit down and Stacey puts her books down on the table. The camera has a tight shot on Julie who is deciding which one should she choose Randy or Tommy. The next camera shot is on Stacey who has her books in her arms and tells Julie "life's not fair" and then she puts her books on the table.
Did you notice that when they had the food fight at the prom Tommy was wearing black dress shoes but when he chases Randy and Julie out the door, he has white tennis shoes on.
In the scene where Skip goes to Susie's house, he is wearing tan pants and then when they show the two of them in bed, the jeans he was wearing at the party are on the floor.
If you look closely, when Tommy comes to pick up Julie for the prom you see Julie's dad come out of the bathroom and he kisses Julie and then you see him kiss her again.
I saw the movie in the theater in May 1983 in Cleveland Ohio. In the scene where Nick Cage and his buddy are outside their car on the hill overlooking the city, a large microphone on a boom is plainly visible above their heads! I remember seeing it and saying "wow...what a MISTAKE!". In all the re-runs I've seen since, the microphone has since been cropped out.

Alex K. kindly updated: I saw the mistake there too! Euclid Ohio to be exact, May 1983. Always wondered if I was imagining it. Thanks for assuring me I'm not crazy. I've never seen the mic boom again in any version since. It was probably an early print released to judge audience reactions. Wow. That's all I can say.
The promotional poster looks like Elisabeth Shue, not Deborah Foreman. There must be a production back story...
Maybe ES was originally cast in this movie and then got another movie offer around the same time (Karate Kid?). Just wondering... Thanks
Bogus Blunders
Sometimes an apparent goof is not a real mistake
But, nothing bogus that we know yet for "Valley Girl".
Next: Some Extra Goodies
Or use the menu to navigate
1983 Atlantic Pictures
1999-2020 fast-rewind.com
V4_27 Powered by Rewind C21 CMS