REWIND
REVIEW

"
One rifle, one gun. One for killing, one for fun.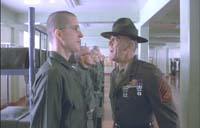 Starring
Matthew Modine, Vincent D'Onofrio, Adam Baldwin, R. Lee Ermey
Dorian Harewood, Bruce Boa, Tim Colceri, Arliss Howard, Kevyn Major Howard, Kieron Jecchinis, Sal Lopez, Gary Landon Mills, Ed O'Ross, Papillon Soo, Jon Stafford, Kirk Taylor, John Terry, Ian Tyler, Peter Edmund Update Cast
Cameos
Look for Vivian Kubrick making a cameo appearance!
There have been many versions of "Chapel of Love". Heard in Full Metal Jacket is the definitive version by The Dixie Cups. It was released as a single in April 1964. Sung by Barbara Ann Hawkins, Rosa Lee Hawkins, and Joan Marie Johnson, this version was the group's first single taken from their debut studio album Chapel of Love.
More Making Of Full Metal Jacket
Review
Full Metal Jacket, directed by Stanley Kubrick ("The Shining") is one of the best anti-war films ever made.

The movie shows us two sides of the war, tells the story of a group of soldiers in the Vietnam war and the situations they got into.

The first part is the "boot camp" in Parris Island in South Carolina.
As the recruits arrive the Gunnery Sergeant Hartman (R. Lee Ermey) "welcomes" them and puts them in place...

These are the Marines that become friends and are central to the story.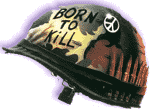 The movie shows us the shocking truth about the Marines and their ways "to make a soldier out of a boy", especially in the case of "Gomer Pyle" who gets humiliated by the Sergeant and by the other recruits.

The second part of the movie concentrates on the war itself. "Joker" is working as military reporter in DaNang (the HQ for the Marines in Vietnam). It is the eve of the great Tet Offensive in February 1968. He and his friend, "Rafterman", are sent to Hue City, (The old Imperial Capital of Vietnam where the heaviest fighting of the war took place.) to get a story. When he gets there he meets with the first platoon, "Hotel" Company, 2nd Battalion, 5th Marines. His old friend Cowboy is part of the platoon. They get reacquainted and meet with the other Marines and then they have to move out. They are on the outskirts of the city when incoming fire suddenly come down around them. Heavy fire is exchanged between both sides. The tanks then move in and, after securing a portion of the city, they set in for the night.

The next morning the fighting stars all over again and the group of brothers in arms fight for their country and most of all for their lives...
Author:
Gilad Adir
Update This Review
Verdict
Outstanding movie!! No wonder it's #99 in the IMDB's top 250 films of all time!!!
Breathtaking movie that shows us the true horror of war.
Great acting, wonderful script... amazing!!!

Well... No Weaknesses.
Rewind Rating
The Movie Data
Jump To: Music & Soundtrack Vibes
Or use the menu to navigate
1987 Warner Bros.
1999-2020 fast-rewind.com
V4_27 Powered by Rewind C21 CMS