REWIND
REVIEW

"
Some guys get all the brakes!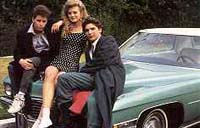 Starring
Corey Haim, Corey Feldman, Heather Graham, Richard Masur
Carol Kane, James Avery, Michael Manasseri, Harvey Miller, Michael A. Nickles, Nina Siemaszko, Grant Goodeve, Michael Ensign, Helen Hanft, Christopher Burton, Jill Jaress, Kimberly Hope, Parley Baer, Bernie Pock, Jon Conrad Pochron Update Cast
Early Appearances
See Grant Heslov before they were famous!
Cameos
Look for Ira S. Rosenstein making a cameo appearance!
Budgeted at eight million dollars and released on 7th June 1988 the movie earned $3,850,934 on the opening weekend at the box office and a total US sales of $22,434,275.
More Trivia from License To Drive
Review
This is one of the classic "Corey and Corey" movies, others being "Lost Boys" and "Dream A Little Dream".

The movie starts with a wonderfully surreal dream sequence on a school bus. Very reminiscent (in style) of the "Nightmare on Elm Street" series, it has the kids chained and manacled inside a dirty, smoky bus with the windows so dirty that they can't even see out. After breaking out of the bus Corey Haim's character wakes up to the reality of yet another missed sombre drivers ed lesson.


"It's not just a license to drive.. It's a license to LIVE!"
The film revolves around a teenagers utter 'need' for their drivers license and the radical difference it makes to their quality of life. When Corey's character 'Les' falls in love with a girl called Mercedes who is clearly out of his league (played by Heather Graham who recently starred in Austin Powers II)...
...And he believes that only a driving license will be the factor that makes the difference between success or failure in this endevour.
-Of course it naturally follows that he fails the drivers theory exam because of his sleeping through all the lessons and is forced to pretend that he had obtained his license.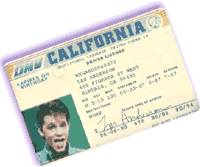 The bulk of the movie concerns the night that follows where things go from bad to worse followed by positively nightmarish as Les struggles to get himself out of progressively worse situations that he finds himself and his Grandfather's precious Caddy up to their necks in.
It's reminiscent of "
Adventures in Babysitting
" and "Mystery Date" -- which has a very similar feel to "License to Drive", starring a young Ethan Hawke.
God giveth and the DMV taketh away...
Full of wonderfully funky characters and situations, "License to drive" is yet another fresh and light movie that defines the era and teaches any of the pitiful 90's 'teen movies' a thing or two about fun and not taking themselves too seriously.
Memorable scenes include his flawlessly executed drivers practical exam with the ball-breaker examiner who wants him to parallel park in a space that seems smaller than the car in a hellishly busy street:-

Driving Examiner:
"Okay Mr Anderson, I want you to parallel park there..."
Les:
"There?!!!"
Driving Examiner:
"What, am I speaking greek? -yes THERE!"
Richard Masur who also starred in "
Risky Business
", "
My Science Project
" and "
The Thing
" plays Les's father in such classic style that he makes his character one of the most memorable of the movie.
Author:
Nick
Update This Review
Verdict
Absolutely Brilliant. Surely in the top ten 'must see' 80's teen movies?
Very funny and very atmospheric night out on the town with the two Coreys.

Ain't no weaknesses here.
Rewind Rating
The Movie Data
Jump To: Music & Soundtrack Vibes
Or use the menu to navigate
1988 20th Century Fox
1999-2020 fast-rewind.com
V4_27 Powered by Rewind C21 CMS