REWIND
REVIEW

"
With dreams like these, who needs reality?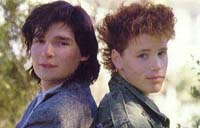 Starring
Corey Feldman, Corey Haim, Jason Robards, Meredith Salenger
Piper Laurie, Harry Dean Stanton, William McNamara, Ria Pavia, Lala Sloatman, Laura Lee Norton, John Ward, Matt Adler, Josh Evans, Jody Smith, Kent Faulcon, Victoria Jackson, Russell Livingstone, Mickey Thomas, Fran Taylor, Susan Blakely, John Grissom, John Ford Coley Update Cast
Cameos
Look for Alex Rocco making a cameo appearance!
In the original script Dinger was not supposed to have a broken leg. Four days before filming began, Corey Haim broke his leg and the injury had to be written into the script. Even though the cast was actually removed 2 weeks into production Corey had to wear a fake cast for the rest of the scenes.
More Making Of Dream A little Dream
Review
Surreal. Spiritual. These are two words not usually associated with the typical 80's movie or teen flick...

However, Dream A Little Dream is both an 80's movie and a teen flick which captures the true essence of surrealism and spirituality. Beautifully written by Marc Rocco, Daniel Jay Franklin and D.E. Eisenberg, Dream A Little Dream shows a viewpoint from two of the most poignant times in a persons life, the teenage years and the golden years.

Bobby Keller (Corey Feldman) is a highschool rebel obsessed with Michael Jackson and Rock & Roll. His life is a shambles. He's failing miserably in school, and he's in love with his best friend Joel's beautiful girlfriend Lainie (Meredith Salenger). His best friend (played wonderfully by Corey Haim) trys to convince him not to pursue this relationship since Joel has a hot temper and Lainie is probably not interested anyway.



Coleman (Jason Robards) is an elderly man deeply in love with his wife Gina (Piper Laurie). However, he and Gina are getting older, and he constantly worries about losing her. He is a very educated man and has come up with a plan to keep them together forever. He feels if he can figure out how to live in a dream with his wife through Transcendental Meditation, that they could theoretically live forever.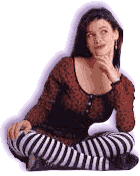 Bobby and Coleman hate each other. This is basically because Bobby acts like an immature kid and Coleman acts like an old geezer. However, one night their worst dreams (pun intended) come true. While Coleman and his wife are in their front yard meditating, Lainie is out riding her bike and Bobby is running to her house, when all four of them collide into each other.


Now Coleman is stuck in Bobby's body while Bobby is trapped somewhere in the subconscious dream state. Now Coleman is forced to make Bobby's life better if he ever wants to return with his wife to their old bodies. It ends up being harder then he expects though because Lainie doesn't believe she's switched bodies with Coleman's wife Gina, and there are a gang of punks who want to beat up Bobby. On top of all that, Bobby visits Coleman in his dreams and apparently knows how to switch back but won't tell Coleman how until he's improved Bobby's grades and gets him the girl.

This movie is simply amazing, although probably a little too complicated for the average teenager to comprehend. The dream sequences are great, and the adorable scene where Corey Feldman dances like Michael Jackson to impress Meredith Salenger is an 80's classic! If there is only one 80's movie with true depth instead of only pure fun, it's Dream A Little Dream!
Author:
Bridgette Marie
Update This Review
Verdict
Excellent film for fans of "The Two Coreys". Their best, in my opinion. Also, great for any deep thinkers, romantics, and anyone who remembers being young.
Amazing soundtrack, wonderful concept, great cinematography... I could go on all day on how fantastic this film is!

Perhaps a little confusing at times, but it's worth it to watch it a few times until everything makes sense to the viewer.
Rewind Rating
The Movie Data
Key Crew
Director: Marc Rocco
Writer: Daniel Jay Franklin, Marc Rocco, D.E. Eisenberg
Producers: Steven I. Celniker, D.E. Eisenberg, Lawrence Kasanoff, Russell Livingstone, Robert G. Magaudda, Marc Rocco, Ellen Steloff
Locations Manager: Sheila Allen
Update The Crew
The Movie Trailer
Jump To: Music & Soundtrack Vibes
Or use the menu to navigate
1989 Vestron Pictures
1999-2020 fast-rewind.com
V4_27 Powered by Rewind C21 CMS