REWIND
REVIEW

"
He's making the world safe for insanity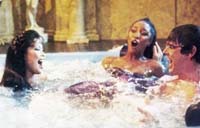 Starring
Dan Aykroyd, Howard Hesseman, Kate Murtagh, T.K. Carter
Donna Dixon, Lynn Whitfield, Nan Martin, Lydia Lei, Fran Drescher, John A. Maloney, Pershing P. Anderson, William Munchow, Ed Meekin, Hank Salas, Rudolph Kovar, Peter Elbling, George Furth, Nan Martin, Peter Aykroyd, Glenne Headly, Annabel Armour Update Cast
Review
Before the instant classic "Ghostbusters", Dan Aykroyd would continue his "Blues Brothers" fuelled movie career in 1983 with "Trading Places" and... "Doctor Detroit".

This movie is cheesy to say the least, but after viewing it several times I would come to the conclusion that this was more than your typical 1980's pop-culture comedy flick.

The writers (Bruce Jay Friedman, Carl Gottlieb, etc) as well as the producer's and director (Michael Pressman) expected big things from "Doctor Detroit", but after all was said and done the movie grossed just over 10 million at the box office and was panned by just about every working critic that bothered to see it.

I was about 9 years old when my mom brought this gem home for me to watch while on a sick day from elementary school. Although I laughed at her choice at the time, "Doctor Detroit" would stick in my memory for years to come.

15 years after I first viewed this film I can still hear Devo's theme song and picture a fit Aykroyd (yes, it's true, at the time he weighed in at well under 200 lbs.) jogging in place at a red light.

As a child I thought the girls in the film were gorgeous, little could I have imagined that one day Fran (annoying voice) Drescher would be starring in a hit television series. (just admit it... every one of you has 'accidentally' stumbled across this hit series at one point or another)...

Doctor Detroit was so cool. Here was a man who went from nothing to all out pimp (although he had trouble admitting it) in less that 24 hours.

During the film he was said to be 'badder that Mr. T.' (as his limo driver Diavolo, played by 80's actor T.K Carter, spread the word on the street).

My being a huge 'A-team' fan at the time, I instantly looked at Dr. Detroit as a being the baddest dude around.

The underlying theme of this flick was that good always prevails against evil (this was HUGE in the 80's- from "The Goonies" to "The Secret Of My Success", the underlying theme was always there) -but, upon further review, I realized that Dr. Detroit was no more than a PIMP!

To this day I love that more than ever, what family film has ever had a pimp as the GOOD GUY? This movie is filled with great performances from Aykroyd (who is spot on perfect as the clueless, bad ass pimp) to Howard Hesseman (of TV's 'Head of the Class' fame, as the pimp who was in way over his head).

Other notable performances include Dresher as Karen, Kate Murtagh as "mom", Donna Dixon as "Monica", and a great performance by Nan Martin, as Cliff Skridlow's mother.

All in all this movie is great for pure entertainment purposes only. It transports you to any big city in the 80's, and has that true 80's feel to it. It may not be able to stand the test of time, but if you are looking to have a little fun and see what the 80's was really like, than you'll love this movie.

Just ignore the critics and find out for yourself by renting this awesome, albeit unrealistic, film. You'll believe in the "The Doctor" when the credits start to roll...
Author:
Chuck Delcroix
Update This Review
Verdict
A great look at 80's life with that "I can do anything" feel to it.

A real joy if you can actually find it at your local video store. This is a very fun movie as it was meant to be. If you are closed minded or looking fr an "artsy flick, you may as well not watch this flick.

The story is great, but the acting is hardly Oscar worthy!
A stellar cast and the opportunity to cheer for the good guys all the way

A serious box office flop that never deserved such a fate.
Rewind Rating
The Movie Data
Jump To: Music & Soundtrack Vibes
Or use the menu to navigate
1983 Universal Studios
1999-2020 fast-rewind.com
V4_27 Powered by Rewind C21 CMS