REWIND
REVIEW

"
They're not just getting rich, they're getting even!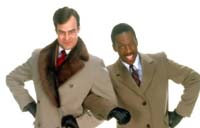 Starring
Dan Aykroyd, Eddie Murphy, Jamie Lee Curtis, Don Ameche
Ralph Bellamy, Denholm Elliott, Paul Gleason, Bo Diddley, Kristin Holby, Alfred Drake, Tom Davis, Maurice Woods, Richard D. Fisher Jr., Jim Gallagher, Anthony DiSabatino, Bonnie Behrend, Sunnie Merrill Update Cast
Early Appearances
See Eddie Murphy before they were famous!
Cameos
Look for James Belushi, Kelly Curtis, Frank Oz, Al Franken making a cameo appearance!
The premise is similar to that of Hoi Polloi (1935), a Three Stooges film. Two rich guys are arguing about what matters most: breeding or upbringing. One bets the other they can take any bum off the street and make him a gentleman.
More Trivia from Trading Places
Review
Louis Winthorpe III (Aykroyd) is a successful commodity broker at the firm of Duke and Duke, run by the Duke Brothers (Ameche and Bellamy). He lives in a wonderfully expensive Philadelphia townhouse, is waited on by his butler Coleman (Elliott) and takes his beautiful girlfriend to the best places in town.

Billy-Ray Valentine (Murphy) is at the other end of the social spectrum. Homeless, jobless, and nearly worthless, he begs on the streets, pretending to be a legless war veteran. And in the eyes of the Dukes, he has one other quality that makes him ideal for their little scheme - he's black.

The brothers have been arguing for years about social backgrounds and breeding against opportunity being the main measure of success. And they have a bet - if they reduce Winthorpe to the gutter and elevate Billy-Ray to the heights, will their backgrounds and upbringing still hold firm (and Billy-Ray fail whilst Winthorpe succeeds) or will the two 'guinea-pigs' adapt to their new surroundings and social levels?

The die is cast. Winthorpe is framed for theft, all his assets are frozen, he is beaten up, arrested, and within 24 hours he is out on the streets. There he meets Ophelia (Curtis), a hooker with a five-year plan to escape the streets. She's the typical tart-with-a-heart, and takes pity on Winthorpe, allowing him to stay at her place, because he's just not streetwise enough to survive.

Meanwhile, the Dukes take Billy-Ray, dress him up, install him in Winthorpe's house, give him a brief introduction to the world of commodity brokerage, and using his knowledge of real-life people, he nets the brothers something like three million dollars in his first ten minutes.

All is going well, when suddenly Winthorpe and Billy-Ray meet, they realise what had been going on, and they begin to plot their revenge. They discover that the Duke's heavy, a man called Clarence Beeks (Gleason) has been working to get advance warning of the Crop Report, a highly illegal move which would allow the Dukes to corner the market in Orange Juice.

They draw up their plans - against Beeks (who was the guy who framed Winthorpe) against the Dukes, whose petty arguing had caused the whole thing, and against the system, hoping they can all come out on top...
Author:
Paul Shrimpton
Update This Review
Verdict
This is a truly unique movie. It plays right to the strengths of all concerned.

Murphy and Aykroyd have the chance to be smart as well as dirty, controlling as well as down-trodden; Ameche and Bellamy are really good as the conniving Dukes, who truly believe that nothing can harm them. Gleason is wonderfully slimy as Beeks, and really deserves his fate. Elliott is the archetypal English Butler in New York (think of Gielgud in 'Arthur' and you'll get the picture) and Curtis is surprisingly funny, because up to then she'd only done films that used her as window-dressing.
A wonderful cast, some truly memorable lines, and twists greater than a pig's tail in a tornado...

How probable is it? only you can decide.
Rewind Rating
The Movie Data
Jump To: Music & Soundtrack Vibes
Or use the menu to navigate
1983 Paramount Pictures
1999-2020 fast-rewind.com
V4_27 Powered by Rewind C21 CMS