REWIND
REVIEW

"
They're on a mission from God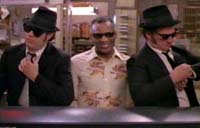 Starring
John Belushi, Dan Aykroyd, Carrie Fisher, Cab Calloway
Ray Charles, James Brown, Aretha Franklin, John Candy, Steve Cropper, Donald Dunn, Murphy Dunne, Kathleen Freeman, Henry Gibson, Willie Hall, Steve Lawrence, Tom Malone (II), Lou Marini, Matt Murphy, Alan Rubin Update Cast
Cameos
Look for Steven Spielberg, Chaka Khan, Frank Oz, John Landis, Paul Reubens, Twiggy, Joe Walsh making a cameo appearance!
The novelization by Miami Mitch is adapted from the original script, where we find, among other things:

Jake's jilted fiancee was originally supposed to be blonde.

The Illinois Nazis are looking to buy the orphanage Jake & Elwood are trying to save and set it up as a new headquarters.

The Magictones are actually illegal Mexican immigrants, with the Blues Brothers Band members scattered across 3 states. Among their new lives: Willie "Too Big" Hall is a drug dealer, Steve "The Colonel" Cropper is a pool shark-turned-Hutterite, and both Donald "Duck" Dunn and "Blue Lou" Marini are working different parts of security.

The band has taken over a house in a developing neighborhood for rehearsal, and to avoid the owners, Elwood detonates the home with cans of hairspray picked up from his job (Indeed, Elwood originally worked at a hairspray can factory and not a glue factory).
More Trivia from Blues Brothers
Review
Jake Blues (Belushi) is having a good day - He's finally being released from prison. He collects his stuff ("One Timex digital watch, broken. One unused prophylactic. One soiled...") and steps out into the sunshine, to be met by his brother Elwood (Aykroyd) driving a new car - an Illinois Mount Prospect Police Patrol car!

Together they go back to the Chicago orphanage they grew up in, where they find out that the building is being repossessed - unless they can come up with enough money in time.

Under Cab Calloway's guidance, they stop off at church to hear the Reverend Clepohus James (James Brown) where the brothers are hit with a revelation - their mission is to put the band back together for a benefit gig.

Thereby follows a riotous journey across country, gathering the band members together. But there are two main issues - firstly the guys all have lives now; jobs, wives, responsibilities.

But that's nothing compared to issue #2: the brothers are pursued by just about everyone they meet, including a group of white supremist Nazi's, Jake's ex-fiancee (Fisher), the 'Good Old Boys', a country and western band that the brothers rip off in a big way and last but not least the entire Illinois State Police Department.

Cue the biggest car chase and pileup in movie history, and loads of laughs along the way.
Author:
Paul Shrimpton
Update This Review
Verdict
This is the seminal comedy musical. There are great performances by established stars, and the mix of good music, great lines, and 'just-right' acting is great.

After all, many of the lines have passed into the english language, and this IS just about the most quoted movie of all time.

Who hasn't said "It's 106 miles to Chicago, we've got a full tank of gas, half a pack of cigarettes, it's dark and we're wearing sunglasses.... Hit it!"
Just a wonderful movie. Music, acting, great lines.

No weaknesses here!
Rewind Rating
The Movie Data
Jump To: Music & Soundtrack Vibes
Or use the menu to navigate
1980 Universal Studios
1999-2020 fast-rewind.com
V4_27 Powered by Rewind C21 CMS