MISTAKES
BLOOPERS

"
They're on a mission from God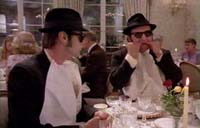 Oooopsy...
"Er, someone wasn't on top of their game that day..."
See the goofs, blunders and plain ole mistakes in the 1980 Comedy movie starring John Belushi, Dan Aykroyd, Carrie Fisher, Cab Calloway
Ray Charles, James Brown, Aretha Franklin, John Candy, Steve Cropper, Donald Dunn, Murphy Dunne, Kathleen Freeman, Henry Gibson, Willie Hall, Steve Lawrence, Tom Malone (II), Lou Marini, Matt Murphy, Alan Rubin Update Cast
We believe the following are all legit mistakes. If we've bungled it, or you have additional info, please update us.
During the mall chase scene, toward the end of the scene, the blues mobile (and one police car) drive into the Jewel food store. The very next scene shows them driving out of the window of the JC Penney store.

(Note, the reason for this is that the JC Penney in the mall where the scene was filmed was "dressed up" as a Jewel food store for the filming inside the mall—though the mall where it was filmed, Dixie Square Mall in Harvey, Illinois, actually had a Jewel food store—but they didn't "dress up" the outside JC Penney sign which was clearly visible when the bluesmobile drove out of the window to exit the mall.)
In an early scene, when Jake and Elwood are talking while driving at night (just before the red light incident) they will pass the same house and parked car 3 times as the dialog moves forward.
At the end of the car chase in the mall, the black man trying to get out of the way of the crashing police car runs directly into the camera. You can see his hands hit the lens.
When Jake and Elwood are performing in the ballroom check out their hands; they are both wearing big diamond rings. When they are in the tunnel the rings are gone.
In the Chicago Police Car crash on lower Wacker drive, the cables pulling the cars are clearly seen!
During the final chase scene when the troopers crash, they call in to say that they are on Rt. 47 heading into chicago; Rt. 47 never goes to chicago. It heads back towards the state prison area.
When you see an exterior shot of the hotel that the Blues Brothers perform in at the end of the movie there is clearly an ohio state flag there. It's in the left side of the shot.
After Carrie Fisher shoots the shoulder fired rockets into the hotel, Jake and Elwood stand up all covered in dirt and brick dust, but when they walk into the lobby of the hotel, they are all clean.

Same when she blows up the hotel and they crawl out from under the bricks. Next scene they are in new suits.
Bogus Blunders
Sometimes an apparent goof is not a real mistake
But, nothing bogus that we know yet for "Blues Brothers".
Next: Some Extra Goodies
Or use the menu to navigate
1980 Universal Studios
1999-2020 fast-rewind.com
V4_27 Powered by Rewind C21 CMS