REWIND
REVIEW

"
Teenage life has never been darker.. Or funnier...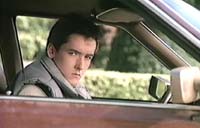 Starring
John Cusack, David Ogden Stiers, Kim Darby, Demian Slade
Cameos
Look for Elizabeth Daily, Rick Rosenthal making a cameo appearance!
The original print (newspaper) advertising of the movie, Better off Dead, included the text, "Sometimes, you're just... Better Off Dead". After receiving complaints that the ad endorsed suicide, the ad creators changed the line to, "Relax, you're never... Better Off Dead".
More Trivia from Better Off Dead
Review
Better off Dead is a very funny movie about a teenager, Lane Myer (John Cusack), who is totally obsessed with his fickle girlfriend Beth (Amanda Wyss).

Unfortunately for Lane, she dumps him for the "best skiier" in school, Roy Stallin (Aaron Dozier), whom Lane has lost his skiing crown to, because she wants to "be seen with someone more popular", and Lane becomes depressed.

Beth thinks Lane is a "no show". In fact he's being harrassed by two foreign men, the Asian 'Howard Cosell' brothers, who try to race him at every traffic light, blowing up people's mothers, running from the psycho paper boy Johnny, who wants his two dollars and trying to learn to ski the K-12 mountain.

As his life worsens, Lane tries various ways to kill himself over his obsession but he can't even get that done right. He always seems to chicken out each time.

He also has a younger brother Badger Myer (Scooter Stevens) who picks up trashy women and builds all kinds of strange things throughout the movie.

Meanwhile, across the street a french foreign exchange student, Monique (Diane Franklin), moves in with the "dorkhead" Ricky Smith (Dan Schneider) and his mother (Laura Waterbury).

Poor Monique gets harrassed by the "dorkhead". Everytime she is near him, with Mrs. Smith pushing them into the "international language", Monique plays stupid.

Finally Lane and Monique meet and restore a beautiful Classic Camaro and become friends. While trying the entire time to get Beth back Lane finds out he is not the big loser after all and he really is happier without her...
Author:
Maureen
Update This Review
Verdict
Make no mistake Better off Dead is a true 80's cult classic with wacky and imaginative humor.

Cusack gives an excellent performance of Lane, the teen on the edge.

Only after multiple viewings will you get to appreciate all the subtle and not so subtle humor and parody in it...
Very funny and unusual. Extremely creative humor and has multiple things going on at once to keep you watching. You can never believe what happens next. A whole bunch of memorable quotes from this movie help make it even funnier.

The only thing I can see may be a problem is the film is somewhat of a different humor type. Some folks may not think it's as funny as I do.
Rewind Rating
The Movie Data
Jump To: Music & Soundtrack Vibes
Or use the menu to navigate
1985 20th Century Fox
1999-2020 fast-rewind.com
V4_27 Powered by Rewind C21 CMS