Songs
The movie also includes an excellent theme song performed by Jimmy Buffett.
Sadly, a soundtrack album was never released.
The following song tracks were featured in
Summer Rental
:
Track names in Bold are linked to a Soundtrack release.
Turnin' Around - Jimmy Buffett
Footloose - Kenny logins
Axel F - Harold Faltermeyer
Are We Missing Any?
Song Trivia
Do you know any interesting trivia about the songs used in Summer Rental? Please send it in by clicking Here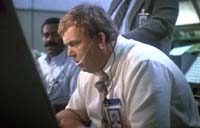 1985