MISTAKES
BLOOPERS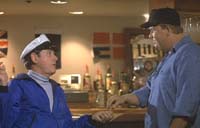 Oooopsy...
"Er, someone wasn't on top of their game that day..."
See the goofs, blunders and plain ole mistakes in the 1985 Comedy movie starring John Candy, Karen Austin, Kerri Green More Cast
We believe the following are all legit mistakes. If we've bungled it, or you have additional info, please update us.
During the big race at the end, listen carefully to when John Candy's youngest daughter asks "Mom, can I play with Yorku?" It's so obviously dubbed and by an adult trying to imitate a five year old girl. Makes me laugh everytime.
When the Barnacle is gaining on the other sailboats, you can clearly see a water jet from the starboard (right) side of the boat, which indicates the engine is running, even though the boat is supposedly under sail.
If you are very observant, when John Candy (Jack Chester) is visiting his neighbor, she proceeds to show him her new breasts. When she lifts her bikini top the scene switches to show her back. But for one split second her breasts are exposed just before the scene changes. Seems like a goof to me.
When the family is sitting in the living room after being told they will be leaving soon you can see the mom has her hand on her face as John Candy's character gets up and suddenly it's in her lap.
Bogus Blunders
Sometimes an apparent goof is not a real mistake
The following goofs for "Summer Rental" are apparently bogus. If you disagree or have additional info, please update us.
Does it ever bother anyone else that the family stays in a hotel on their way to Florida. In the scene where they get to Florida it's clear that the town they're going to isn't far across the border and they started in Atlanta. That trip would only take a few hours.

The town that the family is going to is NOT right over the Florida border. It is in the Florida Keys which is probably a 10-12 hour drive from Atlanta.
Next: Some Extra Goodies
Or use the menu to select another option
1985 Paramount Pictures
1999-2018 fast-rewind.com
V4.0b Powered by Rewind C21 CMS