Songs
Can you help with information/opinions about the choice of songs heard in Weekend at Bernie's? Please click Here
The following song tracks were featured in
Weekend at Bernie's
:
Track names in Bold are linked to a Soundtrack release.
Hot and Cold - Jermaine Stewart
Night on Bald Mountain - Modest Mussorgsky
Are We Missing Any?
Song Trivia
Do you know any interesting trivia about the songs used in Weekend at Bernie's? Please send it in by clicking Here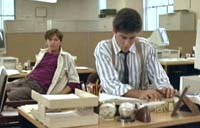 1989
Score Music
Composer(s):
Andy Summers
The music for the film was composed and performed by Andy Summers, former guitarist for the quintessential '80s pop group, The Police.
The soundtrack was guitar-based. Mostly instrumental, the music was indicative of Summers' solo work at the time. [Thanks to Raj Manoharan]
Can you help with any of the instrumental score track names used in Weekend at Bernie's?
Score Trivia
Do you know any interesting trivia about the instrumental score music used in Weekend at Bernie's? Please send it in by clicking Here