Songs
Can you help with information/opinions about the choice of songs heard in Adventures In Babysitting? Please click Here
The following song tracks were featured in
Adventures In Babysitting
:
Track names in Bold are linked to a Soundtrack release.
And Then He Kissed Me - The Crystals
Twenty Five Miles - Edwin Starr
Gimme Shelter - The Rolling Stones
Expressway to Your Heart - Southside Johnny, The Asbury Jukes
What Does It Take (To Win Your Love)? - Junior Walker
Real Wild Child - Iggy Pop
Babysittin' Blues - Albert Collins
Future In Your Eyes - Southside Johnny, The Asbury Jukes
Evil (Is Going On) - Koko Taylor
The Brady Bunch Theme - The Brady Bunch
Just Can't Stop - Percy Sledge
Albert's Smokin' Ice - Albert Collins
Blues Had A Baby And They named It Rock-N-Roll - Muddy Waters
Bring It On Home To Me - Sam Cooke
Fly Away - Nora Jones
Are We Missing Any?
Song Trivia

At the college party, the blues/bar band Southside Johnny and the Asbury Jukes perform "Future in your Eyes" & "Expressway To Your Heart" (an old Soul Survivor song).
-Thanks to Jeff Eley
While the music for the television set in the Anderson's house is playing from the movie, "Halloween, the video footage is actually a music video. It's called "The Peter Gunn Theme" by the group "Art of Noise", who contributed the remake of Prince's song, "Kiss" to another '80's film, "My Stepmother is an Alien", with Tom Jones on lead vocals.
-Thanks to Amy Green
Add some more trivia about the songs used in Adventures In Babysitting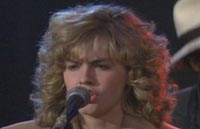 1987