MISTAKES
BLOOPERS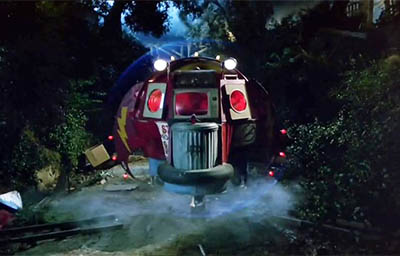 Oooopsy...
"Er, someone wasn't on top of their game that day..."
See the goofs, blunders and plain ole mistakes in the 1985 Family movie starring Ethan Hawke, River Phoenix, Bobby Fite More Cast
We believe the following are all legit mistakes. If we've bungled it, or you have additional info, please update us.
When Ben and Darren walk over to Wolfgang's house, Ben is wearing brown corduroy pants. Then when they go down to the basement, he's wearing blue jeans for a few shots. And then he's back to wearing his brown corduroys for the rest of the scene.
In the Thunder Road scene where they start to wear their masks, Wolfgang takes off his glasses because he will wear his gas mask, but when he says "Check, Check, Check" you will see he's still wearing those glasses and a mask as well.
When Darren puts the headphones on Wak's head, he puts them on the side of his eyes. His ears are much lower on his head.
At 07:16 on the DVD, "2517 Davana County School District" is written on the side of the school bus, but at 49:58, the sheriff's helicopter lands by a sign reading "Davanna County" and at 50:51, deputy Gordon reads a copy of the "Davanna County Gazette".
When the orb smashes through the window of Wolfgang's basement and out into the street. Ben tells Darren to come inside but instead of calling him "Darren" he calls him "Derek". The same mistake Wolfgang's mother made earlier in the film.
In the opening scene, Ben talks to Wolfgang on the radio. There appears to be lightning outside Ben's house, but at Wolfgang's its quiet and you can hear the crickets.
Davana county is alluded to being in California, but Ben's jacket says Newtown MD (Maryland).
The battery Darren removes from the car is different from the one he installs. Also positive/negative terminals are touching through that metal strap.
Bogus Blunders
Sometimes an apparent goof is not a real mistake
The following goofs for "Explorers" are apparently bogus. If you disagree or have additional info, please update us.
When the bubble appears around the space ship for the first time, it cuts off the pieces of wood that were holding it there. However, earlier in the movie when the bubble appears around Wolfgang, it doesn't cut off his legs.

Actually the soles of his sneakers are lopped off as you can tell when he is hanging from the tree and even when you see them walking on the sidewalk in the next scene where the Rayovac 9 volt 'black cat' battery is shown.
Next: Some Extra Goodies
Or use the menu to select another option
1985 Paramount pictures
1999-2018 fast-rewind.com
V4.0b Powered by Rewind C21 CMS