REWIND
REVIEW

"
His spirit returns for revenge...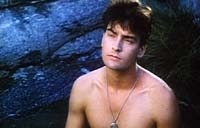 Starring
Charlie Sheen, Sherilyn Fenn, Nick Cassavetes, Randy Quaid
Chris Nash, Clint Howard, Matthew Barry, David Sherrill, Jamie Bozian, Griffin O'Neal, Vickie Benson, Jeffrey Sudzin, Peder Melhuse, Michael Hungerford, Steven Eckholdt, Elizabeth Cox, Richard Alexander (II), Christopher Bradley, Joan H. Reynolds Update Cast
Nick Cassevates is the son of legendary actor/director John Cassevates.

Since acting in The Wraith, he worked regularly and has now gone on to direct himself, with such films as "She's so lovely".

His recent feature "Going After Cacciato" was also written by him.
More Trivia from The Wraith
Review
The Wraith is the kind of dark, brooding, edge-of-society movie that was a special feature of the 80's.

Straight away, we are introduced to a gang of truly bizarre teen misfit outlaws, played by such 80's luminaries as Chris Nash ("Mischief"), Clint Howard and Nick Cassavetes, who plays leader "Packard Walsh". The gang prowl the lonely Arizona highways at night intimidating people into highway racing or losing their 'wheels'...

The only other thing that Packard seems interested in is local girl Keri Johnson, played by the ever gorgeous Sherilyn Fenn. And being that it's Sherilyn that we're talkin' about, who can blame him if his interest is blatantly obsessive?

In fact, Keri is not interested in him at all, but he manages to maintain his grip on her through the same kind of intimidation that he puts on everyone in town.

Packard's rage is soon directed at Jake (CHARLIE SHEEN), the new guy in town who instantly forms a mutual admiration society with Keri.

The local hangout for these "road pirates" -and just about everyone else in town- is the "Big Kay's" greasy burger joint, and it is here that Packard's gang are first taunted by the way-cool, mysterious, blacked out "Turbo Interceptor".

With their desire to "take posession" of this fantastic vehicle, a race is inevitable... but this time it ends in disaster and Packard's number is one down.

What follows is a mixture of "Near Dark" and "The Road Warrior", whilst the bemused local sheriff, played with a cocked hat and squint by Randy Quaid, tries to figure it all out.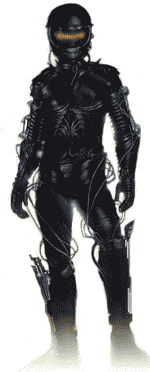 Though we, the audience, are blatantly allowed to figure out what is going on, the thing that makes the movie work is credible acting from a cast of so many "about to famous" actors, mixed with every cheesy dialog cliche in the book, great action, stunts and FX.

In fact, the filmmakers are to be applauded for giving the movie very credible car and bike chases and special effects despite the low budget (even though some great shots are sneaked in more than once in true low-budget style!)

The package is finished with a brooding synthesized score to go with it's general weirdness and a mixture of suprisingly good cheesy rock & pop music from the era.

This was, no doubt, part of the staple diet of teen horror fans of the era and is a bit of a treat for fans of this genre even today. Like so many movies of this era, it's a pure comic book on the screen.

Notice that, in common with many 80's teen favorites, The Wraith portrays a world, on the edge of society, seemingly inhabited only by teenagers and ineffective cardboard authority figures. This world seems to be a feature of the movies of that era, and one that requires that we 'suspend disbelief' and just go with the fun -but if you're prepared to do that, it's pure, cheesy fun all the way...
Author:
Nick
Update This Review
Verdict
Not a film for the serious film critic, "The Wraith" nevertheless is a lot of fun and will remind people who were around at the time very much of the kind of movies they were watching when their parents were away...
Great action, stunts, cast and "weirdness".

In many ways, a total cheese-fest!
Rewind Rating
The Movie Data
Jump To: Music & Soundtrack Vibes
Or use the menu to navigate
1986 Allied Communications
1999-2020 fast-rewind.com
V4_27 Powered by Rewind C21 CMS