REWIND
REVIEW

"
In the future, cities will become deserts, roads will become battlefields...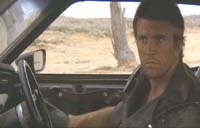 Starring
Mel Gibson, Bruce Spence, Max Phipps, Vernon Wells
Emil Minty, Michael Preston, Kjell Nilsson, Virginia Hey, William Zappa, Arkie Whiteley, Steve J. Spears, Syd Heylen, Moira Claux, David Downer, David Slingsby, Kristoffer Greaves, Max Fairchild, Tyler Coppin, Jim Brown (III), Tony Deary Update Cast
There is only one other credited actor besides Mel Gibson who appeared in both Mad Max and Mad Max 2.

Max Fairchild played "Benno Swaisey" in the first film, then played the "Broken Victim" in the second film. He is bigger of the two individuals tied to the front of the vehicle driven by Humongous.
More Trivia from Mad Max 2
Review
In 1981, the then-rarely known 1979 independent film "Mad Max" finally found its following thanks to the amazing worldwide success of this high-powered sequel set in the post-apocalyptic future that also made Mel Gibson a star and paved the way for action heroes to come.

"
For reasons now long forgotten, two mighty warrior tribes went to war and touched off a blaze that engulfed them all...
"
Max Rochtansky (Gibson), better known to the world as Mad Max, was once a macho cop who, alongside his partner, always got the dirtiest jobs done. But when his partner was killed suddenly, Max decided to throw in the towel and go on vacation with his wife and child.
But just as fast as you could say "Rochtansky," the vacation turned into a nightmare when a gang of rebel bikers targeted Max and his family and when his wife and child were killed by the bikers, Max set out with high-speed revenge.
In "Mad Max 2: The Road Warrior," Max is now a loner in the post-apocalyptic world with only a dog, a car and a sawn-off shotgun in tow.
"
...Only those mobile enough to scavenge, brutal enough to pillage would survive. The gangs took over the highways. ready to wage war for a tank of juice.
"
Mad Max 2 opens with a powerful narrated montage of apocalyptic images detailing the demise of a society based upon greed and fossil fuels. This kind of thing was a feature of movies of the cold war era, but rarely is it so powerfully evocative.
The world we find is left is a barren wasteland populated by violent gangs of deranged maniacs roaming the lands, like everyone else, in search of the most valuable commodity in the world... Gasoline.
Desperately short of gas himself, Max thankfully stumbles upon a small gasoline refinery operation, which has been repeatedly attacked by ruthless wasteland biker gangs. Skinheaded or mowhawk, these leather clad outlaws will stop at nothing to get the gas and weald a variety brutally effective, barbaric weapons.
Now it's up to Max to save the town and the people in it as he takes on the bikers and fights for the future of mankind and to get the townspeople --and the gas-- to safety before it's too late.
Author:
Philip Martin
Update This Review
Verdict
"The Road Warrior" is one of the greatest action movies of the 80's, and featured some of the most memorable chase scenes to ever hit the big screen.

Perhaps because it used the unfamilar world of the Australian outback coupled with the ingenuity born of a woefully small budget, MM2 manages to portray one of the most chilling post-apocalyptic views of the world ever committed to film.

This film is definitely one of the most explosive action films ever made. I recommend it to anyone who likes action movies.
Action-packed; Mel Gibson's finest moment.

With a brilliant film like this who needs weaknesses?
Rewind Rating
The Movie Data
Jump To: Music & Soundtrack Vibes
Or use the menu to navigate
1981 Warner Bros.
1999-2020 fast-rewind.com
V4_27 Powered by Rewind C21 CMS