REWIND
REVIEW

"
The first time seems like the worst time, but it's the one time you'll never forget!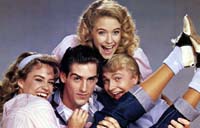 Starring
Doug McKeon, Catherine Mary Stewart, Kelly Preston, Chris Nash
D.W. Brown, Jami Gertz, Margaret Blye, Graham Jarvis, Terry O'Quinn, Darren Ewing, Dennis L. O'Connell, Bob McGuire, Bryce Kasson, Andrew Ream, Julie Noble, Bob Banks, Charles Dodrill, Jordan Baker (II), Phillip S. Wilson, Clarence Glover Update Cast
I believe My Dad is the original Gene that this movie was written about. A Noel Black autobiography this is not. My Dad is Gene Cavote: his real name is Paul and his father was also Paul, but Gene is his middle name. The Cavote family lived in Nelsonville Ohio from around 1936 until their house burned in 1976. Gene rode Harley's and was notorious for running the square in Nelsonville Ohio and causing general trouble. My Father Gene is still alive and my Mom's name is not Bunny but Shirley. This screenplay I am sure is from the legend of Gene Cavote and his motorcycle years in the early 50's. I have a photograph of him sitting on a 1939 Harley "45 cid" bike on the square in Nelsonville to prove it. I always wondered how Noel Black came across the story of Gene. Did he live near Nelsonville OH or did he hear the story from someone?

And the latest is... After years of wondering what the connection was between Gene Cavote and the storyline from Noel Black, I found out.

It has recently come to light, from a very close friend of my Dad Gene, that both Gene and Noel Black were active HAM Radio operators. Noel Black was known as "Blackie" to my Father Gene and they spoke regularly on the radio. I thought that Noel Black might have got the storyline from someone who grew up in Nelsonville Ohio but little did I know that Noel Black got the story directly from the horses mouth, so to speak. Gene passed away recently and his good friend actually saw my post on fast-rewind and he let me know what he knew about the connection, as he is a HAM radio operator as well someone who spoke to "Blackie" and good friend of Gene's.... Thanks John S. This also confirms to me that the story is based on the real life of Gene Cavote.

Great movie and a great man.
More Trivia from Mischief
Review
Set in the 1950's, "Mischief" depicts the friendship between two teenagers, Jonathan and Gene (Doug McKeon and Chris Nash).

Jonathan is the nerdy teen who is trying to impress Marilyn (the always attractive Kelly Preston), the most popular girl in high school. Gene is the cool "Fonzie" kinda guy who gives Jonathan advice on how to get the girl.

Although Gene is a womanizer, he himself has eyes for just one girl, a wholesome, apple pie girl named Bunny (Catherine Mary Stewart of "Night of the Comet"), unaware that he is competing against popular boy Kenny and that Bunny's parents won't accept him, but whatever the cost, Gene will do whatever it takes to win her over.

At first, it seems that the movie is focusing on Jonathan's romance with Marilyn since they are the characters who appear on the movie poster, but then it shifts direction to focus more on the relationship between Gene and Bunny, eventually leaving Marilyn out of the picture by the end of the movie, despite the fact that her unclothed scene has gotten a lot of attention from people who have seen the movie.

Things start to go bad for Gene when he leaves town after his father kicks him out of the house. While he is away, Bunny goes to the prom with Kenny, but she is soon to realize that she really wants to be with Gene.

It's not much better for Jonathan, as he is forced to go it alone. Then, Marilyn informs him that the former high school quarterback is back in town and wants to be her date for the prom. Jonathan takes no prisoners and dumps her.

That night, Jonathan finds himself reunited with Gene, who explains to Jonathan why he disappeared that day and also tells him that he wants to be with Bunny, hoping that she'll run off with him... Does she?
Author:
Philip Martin
Update This Review
Verdict
The little-known sleeper that it is, "Mischief" is very much a cute and likeable movie with groovy songs from the 1950's and brilliant performances from Doug McKeon, Chris Nash, Catherine Mary Stewart and Kelly Preston.

Sadly, this is one of the many 80's classics that have been officially out of print for a long time. I would like to see it released on DVD soon and I know that you probably would too.

It has been seen recently on cable with a crisp new picture, so lets hope that Fox sees fit to release it on DVD soon...
Great 50's music and good performances and it was fun to see Kelly Preston take it all off.

Kind of dated.
Rewind Rating
The Movie Data
Jump To: Music & Soundtrack Vibes
Or use the menu to navigate
1985 20th Century Fox
1999-2020 fast-rewind.com
V4_27 Powered by Rewind C21 CMS