REWIND
REVIEW

"
The last time the comet came the dinosoars disappeared...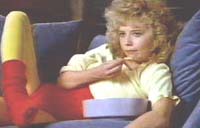 Starring
Robert Beltran, Kelli Maroney, Catherine Mary Stewart, Sharon Ferrell
Geoffrey Lewis, Mary Woronov, Peter Fox, John Achorn, Michael Bowen, Devon Ericson, Lissa Layng, Ivan E. Roth, Janice Kawaye, Chance Boyer, Andrew Boyer, Stanley Brock, Marc Poppel, Raymond Lynch Update Cast
Cameos
Look for Dick Rude making a cameo appearance!
Review
Itís 1984 and this Christmas weíre going to party like thereís no tomorrow. It seems that a stellar light show will begin on Christmas Eve when a comet passes through our atmosphere. The last time it passed by was over 65,000,000 years ago, about the time the dinosaurs disappeared. So pick up your sunglasses and buy one of those alien headbands everyoneís wearing and enjoy the party for thereís no real tomorrow...

So everyone's partied their butts off and almost no oneís survived the night, except the few who were protected behind steel walls. This is where we join our unlikely heroes, a valley girl, a cheerleader and a truck driver, as they discover what happened to everyone. But watch out, there are zombies everywhere looking for a little action and some nice fresh meat. If that isnít enough there seems to be a think tank looking for survivors they can save or can they? Weíre all just test subjects for the big brains.

Will our heroes survive to repopulate the earth? Of course they will, itís the 80ís and every fairytale must have a happy ending. so just remember if the world truly ends and youíve forgotten your MasterCard you wonít need it, the stores are open...

Until 2007, this classic movie was one of the sad list of titles that were unavailable on DVD with seemingly no hope of a release. We were delighted that a bare-bones DVD was finally released in the USA on 6th March 2007, but even more pleased when it got the full Special Edition Blu-ray treatment in 2013 in both the UK & USA with no less than THREE commentaries!! Use our search feature to grab a copy!
Author:
Marty
Update This Review
Verdict
This movie is one of the best thingís to come out of the 80ís. Personally, when I felt low, I would watch this film and just dream that I was one of the last people on earth. And of course my prince charming would roll up in a Porsche to drive me into the sunset. So itís almost a ten in my book.
A true cult classic.

Would the power really stay on?
Rewind Rating
The Movie Data
Jump To: Music & Soundtrack Vibes
Or use the menu to navigate
1984 Atlantic Releasing
1999-2020 fast-rewind.com
V4_27 Powered by Rewind C21 CMS