REWIND
REVIEW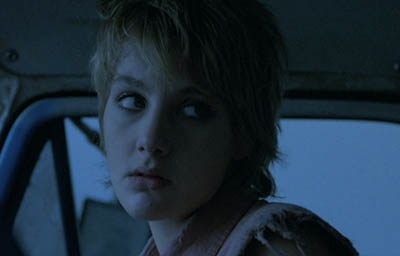 Starring
Adrian Pasdar, Jenny Wright, Lance Henriksen, Bill Paxton
Early Appearances
See James LeGros before they were famous!
The novelist Anne Rice claimed that the writers of Near Dark 'borrowed' ideas from her Vampire Chronicles series.
More Trivia from Near Dark
Review
Co-written and directed by talented director (and accomplished painter) Katheryn Bigelow, Near Dark was the first non-gothic Vampire movie and, along with "The Lost Boys", one of the movies that revolutionised our modern perception of them.

Kathryn co-wrote the screenplay with Eric Red, who had previously penned Rutger Hauer's "The Hitcher". A mutual friend introduced Bigelow to Red and suggested they collaborate on a script. The friend believed both writers shared a synergy in storytelling... With a little extreme violence thrown in for good measure!

Incidentally, Bigelow and Red collaborated on two scripts. The first was called "Undertow" which it was agreed Red would direct. The second was "Near Dark" which, unexpectedly, found a backer first in the form of Edward Feldman of F-M Entertainment, the producers of "The Kindred". "We sent it to him on Thursday," said Bigelow. "We got a called from him on Sunday. He loved it."

No longer were vampires the lone, gothic romantic gentlemen with a gift for seducing beautiful young virgins.

Now they were vicious gang members who lived on the fringes of society terrorising all that they came across. The vampire gang mythology was born, with members living their nocturnal lives to the full with drugs, sex and violence always on the menu. The idea, according to Bigelow, was to strip down the "gothic underpinnings that surrounded vampires like holy-water, bats and then merging that with the classic elements of a western or road movie."

"It was a deliberate choice. We thought since we were reinventing vampires in a way, it would be a disservice to categorize them. And what are they, really? Modern-day pirates or cowboys. Nocturnal creatures. They`re people you pass on the street when you walk through dark alleys.

-The showdown, the shootout, the Midwest setting. We turned them into modern gunslingers traveling these deserted highways. -Kathryn Bigelow

Near Dark is as a result actually the much darker, brooding brother of "The Lost Boys". It retains much of the mythology, but sets it in a much darker, edge of society, outlaw backdrop rather than "Lost Boys" more glamorous comic book west coast world.

Possibly the secret to the success of the movie, is Bigelow's refusal to pay too much attention to the vast amount of modern vampire lore. One of the concepts that was present in the original Bram Stoker story was the idea that a vampire can be returned to normal by a process Stoker called 'bloodletting' where the subject is given a transfusion of normal mortal blood. Bigelow used this as a central premise in Near Dark to give the opportunity of 'inter-racial' relationships where love can overcome all...

"I only read Bram Stoker's 'Dracula' and Anne Rice's 'Interview with a Vampire'. Stoker gave me the idea of reclaiming victims by draining them completely, almost to the point of death, and then infusing them with 'healthy` blood.

What was appealing was the notion of redeemable vampires who give up the ability to live forever for mortality. Yet they're tainted by that knowledge. I wanted to explore that idea while putting an erotic charge into the material, sexualizing the violence.." -Kathryn Bigelow

In the cast we have Lance Henriksen, who always adds the right amount of weirdness to his roles. A young Bill Paxton ("Aliens", "Twister", "Titanic") also stars.

The movie definitely has that atmospheric 'weirdness' that seemed only possible in that era...
Author:
Nick
Update This Review
Verdict
Definitely an unspoiled and sylish classic of the highest order. Many people may not have ever seen it. I urge you to catch it whenever you can.
Absolutely stunning vampire film that smashed the vampire genre mold forever...

Some plot holes, otherwise stunning work.
Rewind Rating
The Movie Data
Jump To: Music & Soundtrack Vibes
Or use the menu to navigate
1987 F/M Entertainment
1999-2020 fast-rewind.com
V4_27 Powered by Rewind C21 CMS