REWIND
REVIEW

"
Never Pick Up A Stranger.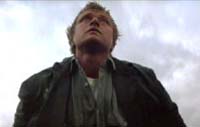 Starring
Rutger Hauer, C. Thomas Howell, Armin Shimerman, Jeffrey DeMunn
Jennifer Jason Leigh, John M. Jackson, Billy Green Bush, Jack Thibeau, Gene Davis, Jon Van Ness, Henry Darrow, Tony Epper, Tom Spratley, Colin Campbell (II), Brittania (II), Garth Shaw Update Cast
Review
A masterful and well directed tale of callous persecution and paranoia. One which reaffirms the old phrase "Trust No One" a good seven years before the likes of agents Mulder and Scully opened the X-Files.

C.Thomas Howell ("The Outsiders", "Soul Man") stars as the innocent, Jim Halsey, who goes against any semblance of logic and decides to pick up hitchhiker Rutger Hauger ("Blade Runner") on a deserted stretch of American highway.

The Hitcher turns out to be a maniacal serial killer, stalking the highways, whose other "work" is briefly seen as C.T continues driving. Soon realising his error of judgement, Howell becomes the new target for this chillingly quiet psychopath.

In a matter of minutes though, our na´ve hero has demonstrated a will to live that inspires his adversary and so begins a battle of wills and a race against time.

The movie has very little dialogue but it's sense of tension and urgency speaks volumes, the increasingly desperate C.T manages to raise the alarm but becomes a suspect when Hauer unexpectedly turns up and annihilates everyone in a small-town police station.

Not so much a game of cat and mouse, as a war between the helpful and the undeserving, a satirical look at the violent dissolution of good will towards your fellow man, this film relies upon the strength of it's story and the audience's empathy with the main character.

The Hitcher also sees a young Jennifer Jason Leigh ('Existenz') in an early role; Jennifer plays an impassive Southern waitress, the only person willing to believe Howell's outrageous predicament. And whilst she has no real significance in the movie, torn between both sides, Jason Leigh makes an unforgettable impact in one of the most extreme homicides in movie history.

Hauer is excellent, his imposing height and blasÚ grin, easily warrants The Hitcher as his best role since Ridley Scott's "Blade Runner". As for C. Thomas Howell, great performances in this and "Soul Man" still (inexplicably) led him down the path of B-movie obscurity.

Even the director, Robert Harmon, hasn't been seen since. It's ironic then, that Jennifer Jason Leigh (the Neve Campbell of her day) went onto become the most famous.
Author:
Kashif Ahmed
Update This Review
Verdict
An excellent film, with some genuinely unexpected moments: the finger in the fries for example, in other words: stop for the hitcher, and you'll go a long way.
Excellent Hitchcockian style suspense with some great acting and nice cinematography

The initial idea may be a little far fetched.
Rewind Rating
The Movie Data
Jump To: Music & Soundtrack Vibes
Or use the menu to navigate
1986 TriStar Pictures
1999-2020 fast-rewind.com
V4_27 Powered by Rewind C21 CMS