REWIND
REVIEW

"
Mark needs a Harvard scholarship, Harvard has one for a black student, Mark's not black...Yet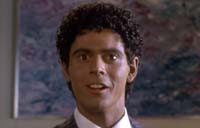 Starring
C. Thomas Howell, Rae Dawn Chong, Arye Gross, James Earl Jones
Director Steve Miner had previously had a hit with "House" and it's good to see that he has made somewhat of a comeback in recent years, responsible for the Mel Gibson drama "Forever Young", the box office smash "H20" and tongue in cheek B-movie "Lake Placid" with Bill Pullman and Bridget Fonda.
More Trivia from Soul Man
Review
A hilarious comedy, which sees Harvard bound C. Thomas Howell, resort to drastic measures in order to get a scholarship; when his wealthy parents decide he should pay his own way through University.

However, the only specialist funding available specifically requires an African American candidate...

Desperate to get that financial aid, Howell decides to OD on tanning pills and appears to be black.

Cue non-stop cultural jokes and some moments of real poignancy, which highlights a blasé attitude towards racial prejudice. Arye Gross is also excellent as Howell's good friend Gordon Bloomfeld and the only one who knows his secret, some great ensemble acting from an oddball cast helps maintain the movie's momentum, and ensures that Soul Man becomes a definitive 80's classic.

DVD News: Soul Man was released on DVD on the 12th March 2002. Don't miss it! Use our search device.
Author:
Kashif Ahmed
Update This Review
Verdict
One of the funniest scenes occurs when Mark Watson (Howell) is having dinner with his white girlfriend's family and each member imagines his/her stereotypical image of him: The mother perceives him to be an African savage, the younger brother a Prince-esque singer and perhaps the most humorous of all is Leslie Neilson as the father, who imagines him to be a Superfly style pimp. Overall, this is about as well rounded as they come, with Howell clearly proving himself to be a more than capable comic/serious actor, in fact, judging from the calibre of his work in this, The Outsiders and The Hitcher, it seems strange that he never really made it beyond the 80s.

Soul Man is as much a satire on perception and race as it is a laugh out loud sitcom, the "casual" prejudice Howell comes across whilst he's black, reminded me of a friend of mine, who used to protest that every time he walked by old ladies in the street they'd clutch their purses closer to themselves and move away (a scene which is similarly played out in the movie as well) The romantic subplot between Howell and Rae Dawn Chong could've easily run up a bill of clichés, were it not for James Earl Jones' no-nonsense law lecturer, who keeps this movie on course by punctuating every scene he's in with some serious cynicism and a bevy of sharp one-liners like "…if you insist on making jokes in my class, please see to it that they are funny" and if that's not your kind of humour, then you'll definitely find something of interest in the classic sign-language scene, overall, a well thought out movie with great supporting performances by Chong, Neilson and even Maree Cheatham/James Sikking as Howell's parents, Soul Man is a movie that's so 80s you'll feel as if you never left the decade: An underrated classic.
Evocative movie, with some great gags and a distinctive 80s feel.
Manages to successfully pull off both comedy and drama.

Bit risky with the racial thing in the P.C. decades that followed.
Rewind Rating
The Movie Data
Jump To: Music & Soundtrack Vibes
Or use the menu to navigate
1986 New World Pictures
1999-2020 fast-rewind.com
V4_27 Powered by Rewind C21 CMS