REWIND
REVIEW

"
The true story of a legend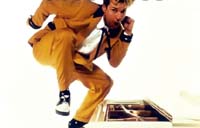 Starring
Dennis Quaid, Winona Ryder, Alec Baldwin, Trey Wilson
Stephen Tobolowsky, John Doe, Steve Allen, Lisa Blount, Joshua Sheffield, Mojo Nixon, Jimmie Vaughan, David Ferguson, Robert Lesser, Lisa Jane Persky, Paula Person, Valerie Wellington, Booker T. Laury, Michael St. Gerard, Carol Russell, Crystal Robbins Update Cast
In the Actor's Studio with James Lipton, when Quaid was asked to sum up Jerry Lee Lewis in 1 word, Quaid responded: "He was a real son-of-a-bitch". He also went on to mention that Lewis stayed on set for most of the film & that he knew Lewis was pretty unstable when he could hear him laughing up a storm over unsettling scenes that were far from portraying him in a manner that was flattering.
More Trivia from Great Balls of Fire
Review
This movie is about the wildest part of the life of legendary rock and roll star Jerry Lee Lewis and how he got into the real music business.

It is based upon the bestselling book by his teenage wife Myra Lewis.

The movie starts with showing a little of his childhood and then it jumps right to the more grown up part of Jerry Lee's life. In other words, it starts right before he gets his first hit-single "Whole Lotta Shakin'" and a record contract.

The movie shows that he was a wild and often difficult person who had his own opinions and never let other people stop him from doing what he wanted.

Early on in the movie you can see that he is falling in love with his 13 year old cousin, Myra Gale Brown, played by Winona Ryder. The big problem starts when he marries her, because she is underage so it's not long before the English press reveals Myra's true age and the news spreads all over the world.

True to form, he will still not be told how he should live his life and once he's made up his mind he never changed it afterwards. However, the effect it had on his career was massive. You could argue that Jerry Lee may have been even bigger than Elvis if he hadn't married Myra.

The movie is very lively and fast paced, so you never get bored. It tries not to get bogged down in the dark side of the complex situation with Myra and Lewis. Some have complained that, as a result, it is too light, skimming over many of the important details. The important thing here is that it is a movie designed to entertain. I'm sure there will be many documentaries that would be better for an in depth examination of the darker side of this fascinating story.

It's made in a similar way to the great Milos Forman movie "Amadeus" because the story unfolds kinda the same way and it has top notch music and lots of comedy.
Author:
Robert Karlsen
Update This Review
Verdict
Dennis Quaid plays Jerry Lee Lewis and goes 100or the role. I don't know why he never got any awards for this role because it could never have been done any better.

This is one of the best biographical movies I have seen and is almost as entertaining as Amadeus.
Dennis Quaid as Jerry Lee Lewis, great music and story.

It misses some of his childhood.
Rewind Rating
The Movie Data
Jump To: Music & Soundtrack Vibes
Or use the menu to navigate
1989 Orion Pictures
1999-2020 fast-rewind.com
V4_27 Powered by Rewind C21 CMS