REWIND
REVIEW

"
The man... The music... The madness... The murder... The motion picture...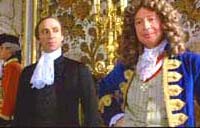 Starring
Tom Hulce, F. Murray Abraham, Elizabeth Berridge, Roy Dotrice
Simon Callow, Christine Ebersole, Jeffrey Jones, Charles Kay, Kenneth McMillan, Kenny Baker, Lisabeth Bartlett, Barbara Bryne, Martin Cavina, Roderick Cook, Milan Demjanenko, Peter DiGesu, Michele Esposito, Richard Frank, Patrick Hines, Nicholas Kepros Update Cast
Early Appearances
See Cynthia Nixon before they were famous!
The Oscar-winning film Amadeus was such a success that it even boosted the sales of Mozart's music by 30%
More Trivia from Amadeus
Review
The winner of 8 Academy Awards, and a genius film in it's own right, Amadeus tells a story of both fact and fiction, proof and hearsay, about the greatest composer who has ever lived.

So incredibly talented was Wolfgang Amadeus Mozart that nearly 300 years after his death, the world still has questions pertaining to his life, his death, and most certainly his music.

Based on Peter Shaffer's brilliant play, Amadeus gives one theory on the life of this enigmatic man-child and the friends and foes he made in his short 35 years on this planet.

Amadeus is narrated by Antonio Salieri who (according to rumor) was both immensely enamored and insanely jealous of Mozart. Salieri (F. Murray Abraham) lives and breaths music, and aspires to be a great composer. He promises God his utmost service if He would only bestow on Salieri the gift of music.

Unfortunately Salieri's talent is only mediocre, and a man by the name of Mozart seems to have been blessed by God Himself (or at least that's what Salieri believes). The film portrays Mozart as a pompous punk who doesn't compose music because he feels it's a divine gift; he composes music simply because he can.

Although this film portrays Mozart as a natural genius, the real-life Mozart was once quoted as saying this:


"People make a mistake who think that my art has come
easily to me. Nobody has devoted so much time and thought
to composition as I. There is not a famous master whose
work I have not studied over and over."
As the film progresses, Mozart becomes more and more infamous for his talent, while Salieri becomes more and more invisible. Although Mozart incessently mocks Salieri's work, Salieri never misses one Mozart performance. Salieri ponders Mozart's talent, as does the rest of Vienna, and Mozart simply attributes it to love. The real-life Mozart once said:
"Neither a lofty degree of intelligence nor imagination
nor both together go to the making of genius.Love,
love,love, that is the soul of genius."
The main reason Mozart composed was for the satisfaction and happiness of others. He said:
"Give me the best instrument in Europe, but listeners
who understand nothing or do not wish to understand
and who do not feel with me in what I am playing,
and all my pleasure is spoilt."
Salieri, desperate for fame or some bit of recognition, devises a simple plan to murder Mozart. Arriving at Mozart's doorstep wearing a mask that Mozart's dead father (who still haunts Mozart) was notorious for wearing, Salieri requests that Mozart write a death requiem. Then, after Salieri has murdered Mozart, he would play the requiem and take credit for composing it.
Tragically, it doesn't take a murder to kill the great Mozart. Excessive drinking and drug use take the life of the incredibly genius composer who was buried in an unmarked paupers grave.
Although it was a tremendous loss to the music world, perhaps Mozart's death wasn't so unfortunate to Mozart himself. The real-life Mozart (again, not the Amadeus-movie depicted Mozart) once said:
"As death, when we come to consider it closely, is the
true goal of our existence, I have formed during the
last few years such close relations with this best
and truest friend of mankind, that his image is not
only no longer terrifying to me, but is indeed very
soothing and consoling! And I thank my God for
graciously granting me the opportunity... of learning
that death is the key which unlocks the door to our
true happiness."
Author:
Bridgette Marie
Update This Review
Verdict
I simply do not have enough words in my vocabulary to express how much this film makes me appreciate the composer Mozart. I think genius is extremely rare in our society today, it's always been rare, but Mozart absolutely possessed it.

The actors are superb, the script is poignant, the music is amazing. This is certaintly one of the greatest films ever made about one of the greatest men that has ever lived.
Amazingly film! Every aspect perfect! Actors, script, music... Simply brilliant!

No weaknesses at all!
Rewind Rating
The Movie Data
Jump To: Music & Soundtrack Vibes
Or use the menu to navigate
1984 Republic Pictures
1999-2020 fast-rewind.com
V4_27 Powered by Rewind C21 CMS