REWIND
REVIEW

"
If you love being scared, it'll be the night of your life.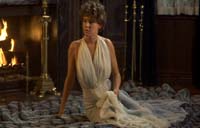 Starring
Chris Sarandon, William Ragsdale, Amanda Bearse, Roddy McDowall
Stephen Geoffreys, Jonathan Stark, Dorothy Fielding, Art Evans, Stewart Stern, Nick Savage, Ernie Holmes, Heidi Sorenson, Irina Irvine, Bob Corff, Pamela Brown (II), Chris Hendrie, Prince Hughes Update Cast
Tom Holland was very keen that "Fright Night" shouldn't end up as just another "effects" picture, he says that: "There's a lot more to the story than just it's frightening moments. It's very strong on warmth and relationships, and its got a lot of humor in it. We needed very good actors to carry off those elements. One thing that I wanted to avoid at any cost was having the special effects overshadow the acting."
More Trivia from Fright Night
Review
In the 80's, vampire movies had a new lease of life. There were several great films that took the genre in an altogether new direction.

"The Lost Boys" and "Near Dark" gave the genre it's first and probably best examples of the Teen "Vampire pack" with the former being slick and glossy with a multiple platinum soundtrack, the latter, mean and moody - a cross between a western and a road movie.

Fright Night is probably the 80's third great vampire flick, but rather than achieving greatness through new direction, it was a brilliant homage to the previous generations.

Tom Holland, who wrote and directed Fright Night as his debut, said at the time:



"The genesis of Fright Night was really my desire to do 'the boy who cried wolf' updated for 1985. I also have a tremendous affection for vampire stories and those two interests seemed like a natural combination for a screenplay."

And it was Mr Holland's "tremendous affection" that so clearly shone through in this superbly crafted update to the old-school vampire movie. His imaginative script brought a wonderful warmth and depth to all the characters, both the good guys and the bad while updating the genre for a new generation.

Tom went on to say:



"One of the reasons that the genre faded was that vampire films were done as period pieces during their heyday and nobody could figure out how to contemporize them. the parody is usually the last gasp of the genre and I guess damn near ten years ago it was LOVE AT FIRST BITE, which I thought was very funny. Then I got outraged when I saw THE HUNGER. I thought it was godawful, because it was a picture ashamed of the genre. It didn't mention the word vampire once. I wanted to bring it back.

I tried to give the film some validity for a modern audience by rooting it in reality. For the first third, try selling the fact that this is happening in a real town, to a real family, to a real boy. Just to build up a willing suspension of disbelief for the audience. Once you've done that, you can get as fanciful as you want. I'm not sure what FRIGHT NIGHT is. It's a horror-fantasy-comedy, yet it doesn't poke fun at the genre, per se. It's very faithful to the traditions of the genre. I was determined to respect all the conventions of a traditional vampire story--coffin-beds, empty mirrors and the like--but to place them in a contemporary context."

Charley Brewster (William Ragsdale) is the suburban kid with the over active imagination who becomes suspicious that his suave, charming new neighbor, Jerry Dandridge is a vampire (the vastly under-used Chris Sarandon, also seen in "The Princess Bride") after he sees him and his carpenter carrying what look like ornate coffins into his basement.

When he sees a different kind of "lady of the night" enter the house next door and then her murder turn up on TV as the top news story he needs no further convincing!

After hopelessly bungling his attempts to convince the police of his story, he turns to his idol, Peter Vincent (Roddy McDowall) "The Great Vampire Killer" from his favorite TV show, "Fright Night".

Of course, Vincent is merely a (newly out of work) actor and is somewhat freaked out --and worried for Charley's sanity-- and refuses to help. It isn't until an impassioned plea (and offer of money) from Charley's sweet, innocent girlfriend, Ami, that he reluctantly agrees to help demonstrate to Charley that vampires don't really exist.

Unfortunately, for the duo, Dandridge is all too real, and crosses, holy water and more than a little faith will be required before the night is out...
Author:
Nick
Update This Review
Verdict
One of the true greats from the 80's. Fabulous script and acclaimed performances from this brilliant cast. Not to be missed.
Great script, acting and effects.

No negatives.
Rewind Rating
The Movie Data
Jump To: Music & Soundtrack Vibes
Or use the menu to navigate
1985 Columbia Tristar Pictures
1999-2020 fast-rewind.com
V4_27 Powered by Rewind C21 CMS