REWIND
REVIEW

"
So bizarre... So sensual... So shocking...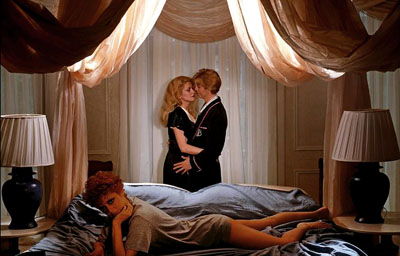 Starring
David Bowie, Catherine Deneuve, Susan Sarandon, Cliff De Young
Beth Ehlers, Dan Hedaya, Rufus Collins, Suzanne Bertish, James Aubrey, Ann Magnuson, John Stephen Hill, Shane Rimmer, Douglas Lambert, Bessie Love, John Pankow, Sophie Ward, Philip Sayer, Lise Hilboldt, Michael Howe Update Cast
Early Appearances
See Willem Dafoe before they were famous!
Twenty years later, this film is the best example of real Eighties NY club style. The pop disco, Molly Ringwald, eighties genre films pale in comparison to this moody film that so typifies the fashion, (retro 40's eighties) and aesthetic of the eighties urban club goer.
More Trivia from The Hunger
Review
The eighties saw somewhat of a renaissance in the vampire genre and, as a result, this decade spawned a lot of vampire flicks, many of them good ones that enjoyed considerable success.

A good example is "Fright Night". That particular film stuck to the 'old school' vampire genre and, by doing so, entertained audiences all over the world. It had great special effects, a very cool cast and, of course, fantastic eighties music.

Conversely, "The Hunger", starring British rock legend David Bowie and talented French actress Catherine Deneuve, breaks all the stereotypes and delivers a thrilling piece of artistic cinema.

The films director, Tony Scott (yep, you guessed it -Ridley Scott's brother), has created a dramatic masterpiece. Even though you probably haven't heard of him before, you have most likely seen one of his films. Tony Scott also directed "Top Gun", "Beverly Hills Cop 2" and "Enemy of the State".

This film has been directed in a way that you most probably haven't seen before, especially in a vampire film. The cuts (I'm talking about the film here, not the bleeding kind!) are very precise and work well with a lot of the carefully devised beautiful music of Michel Rubini and Denny Jaeger.

Catherine Deneuve plays an immortal 4000 year old vampire named Miriam Blaylock, living in Manhattan with her lover John (Bowie).

They feast on the unsuspecting "young persons" of the Big Apple and dwell in their stunningly isolated mansion. But John, who is not immortal, had been seduced by Miriam in the early eighteenth century (but he's not immortal…?) and is now starting to come of age- real fast. In one amazing sequence he ages 300 years in just one afternoon. The special effects, although not so special now, were done by Dick Smith who worked on "The Exorcist".

Miriam seeks the help of Sarah Roberts (Sarandon), a doctor engaged in research into ways of halting the aging process. After a heart-breaking "so called death" sequence between Miriam and John, Miriam puts him away (still alive, in a coffin!) forever as she can't bear to live without the 'young and lustful' John she once knew.

It seems that Miriam moves on quickly though and soon seduces Sarah and sexually initiates her into the vampire world. From this extraordinary scene, the film builds up inexorably to a spine-chilling climax of escalating terror.

Deneuve, Bowie, and Sarandon all give spectacular performances and the film, with it's series of stunning visuals, has made itself a vampire classic of the eighties, brought to the screen by Tony Scott, Stephen Goldblatt (cinematographer) Richard Shepard (producer) and screenplay writers Ivan Davis and Michael Thomas. This film will keep you gasping from start to finish.
Author:
James Beck
Update This Review
Verdict
There isn't much wrong with this film. However, those of you who enjoy sticking to the vampire "genre" might find it difficult to watch. For starters, the vampires don't have fangs - not ones that you can see anyway. Secondly, they walk around in the daylight and thirdly they don't sleep in coffins but in nice big beds. "The Hunger" does a great job at breaking the stereotype and for a lot of vampire and horror lovers this can be quite a welcome change.

If you are looking for something along the lines of "Fright Night", then this is not for you. "The Hunger" does not have a lot of "discoish" eighties music (a common theme in eighties horror) but rather a delightful chilling score that plays throughout the film. There is a cool disco scene at the beginning however, involving Peter Murphy of Bauhaus, singing "Bela Lugosi's Dead".

And for those of you who were looking for some of Bowie's music to listen to, there is none of that either. Rent "Labyrinth". (Although David Bowie does sing once in the movie. It's in the background of an Iggy Pop song. The roller skating scene. For some reason it is not listed in the credits. The song is called Funtime. I believe Bowie also produced it. - Thanks to Felice Schwed)
Great musical score, fair acting, stunning visuals and a lesbian scene!

Could have done with more dialogue.
Rewind Rating
The Movie Data
Jump To: Music & Soundtrack Vibes
Or use the menu to navigate
1983 MGM/UA
1999-2020 fast-rewind.com
V4_27 Powered by Rewind C21 CMS