REWIND
REVIEW

An American Werewolf In London
"
From the director of Animal House - - a different kind of animal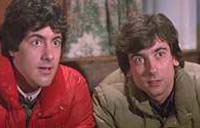 Starring
David Naughton, Griffin Dunne, Jenny Agutter, Don McKillop
Paul Kember, Sean Baker, Joe Belcher, Michele Brisigotti, Anne-Marie Davies, Colin Fernandes, Mark Fisher, Brian Glover, Lila Kaye, Albert Moses (II), Frank Oz, Paddy Ryan, David Schofield, John Woodvine Update Cast
Cameos
Look for Rik Mayall making a cameo appearance!
Review
Europe brings to mind many lovely images: Romance and the Eiffel Tower in France, Gondolas and delicious food in Italy, Werewolves and the undead in England.... Well, some images are not so lovely as they are... altogether frightening!

Imagine. You and a friend are on a vacation, leaving America far behind and embracing a relaxing visit to England. You are walking together through a forest, cozily bundled up to avoid the cool night air, when all of a sudden you hear noises. Sounds like barking, perhaps? Could it be a dog? No, not quite like barking, more like... howling? It sounds spooky, but distant, so no harm could possibly come to you, could it? But wait... the sounds are coming closer...and closer... Noooo! The howling came from a ferocious wolf, or more precisely a "Werewolf" (half man, half wolf), which is in the process of eating your best friend, and then turns on you!

Luckily, you end up being only slightly mauled, and your friend... well, he didn't make it. But don't worry! You'll see him again, although you probably don't want to. He comes back "undead", decomposing before your eyes, to warn you that you are the last werewolf, and the only way to break this horrible curse that has your friend a walking zombie and you a man eating beast, is to kill yourself. Do you believe him? Nah.

Unfortunately, nobody else does either. They think werewolves are old folk legends, and that you are merely suffering from post traumatic stress, and they're probably right... right?

For awhile you think so. The doctors are probably right. There are no such things as werewolves. You're probably just going crazy. No such luck.

While relaxing in your new girlfriends apartment reading a book, you start convulsing in horrendous pain and begin morphesizing into a positively horrifying monster, created by makeup artist Rick Baker and others. You go on a man eating rampage, terrorize the main city streets of London, and have no control over your horrendous outbursts.

Imagine this all, and you get a sense of what it's like to be the main character played by David Naughton in this horror classic written and directed by John Landis. So grab the popcorn, turn down the lights, grab some silver bullets (for protection) and get ready to watch the best horror flick the 80's has to offer! You'll never look at a full moon the same way again!
Author:
Bridgette Marie
Update This Review
Verdict
A must see for the horror buffs and lovers of scary movies and werewolves. Watch this film to get in the mood for Halloween and scare yourself silly!
Amazing special makeup effects, excellent music, great to watch late at night at Halloween after you've finished passing out candy!

Perhaps the plot is a little simple, but hey it's a horror flick! I still feel the 80's makeup effects beat out the 21st century computer graphics any day!
Rewind Rating
The Movie Data
Jump To: Music & Soundtrack Vibes
Or use the menu to navigate
1981 Universal Pictures
1999-2020 fast-rewind.com
V4_27 Powered by Rewind C21 CMS