FILMFACTS
TRIVIA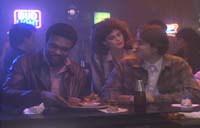 Totally Trivia
Film facts for the 1985 Teen Drama movie starring Matthew Modine, Linda Fiorentino, Michael Schoeffling More Cast
We believe the following trivia is all legit. If it's bogus or you have additional info, please update us.
The poem recited by Tanneran in the classroom scene is a classic poem entitled "Spring and Fall To a Young Child" by Gerard Manley Hopkins, a noted Victorian-age poet whose works were published in 1918, some 30 years after his death.
The term Vision Quest originally means "a solitary vigil by an adolescent American Indian boy to seek spiritual power and learn through a vision the identity of his usually animal or bird guardian spirit."
It sure was nice to see Ronny Cox outside of the "Beverly Hills Cop" series. Always a great actor, he contributes a lot to the realistic feel of this movie playing Louden's dad. Similarly it was nice to see Charles Hallahan given such a meaty role as the coach. He is probably best known to 80s fans for his role in "The Thing".
Frank Jasper, who played "Shute" (the bad-guy wrestler), later appeared as the hobo with the sign reading "I will wrestle you for food" in the Van Halen video "Right Now"
The nerdy girl at school who has a crush on Louden was played by Daphne Zuniga, who starred alongside John Cusack in "The Sure Thing" and later played Matthew Modine's love interest in "Gross Anatomy"(1989).
In Louden's wrestle off against Kuch he beats him with a move called a "lateraldrop", he beats Shute with the same move.
Terry Davis, the author of Vision Quest, makes a cameo appearance in this movie. He is the moustached man, sitting next to Mr. Tanneran in the stands during the big match.
This is one of Michael Schoeffling's rare film appearances. He did this movie immediately after "Sixteen Candles" and really did a fine job of playing Louden's friend, Kuch. He had been a GQ fashion model in the mid-eighties prior to and during his film career. He disappeared from movies in the very early 90's having only made about 10 movies. Many web sites in the later 90's had started to wonder what had happened to this promising actor. The mystery remained for a few years before the answer was revealed. Michael had abandoned the spotlight to concentrate on a business building hand-crafted furniture in Pennsylvania.
Jack Kroll of NEWSWEEK praised the film saying "Winning! You're smiling through the whole film."
The gym at 'Rogers' was torn out and replaced a few years ago. But, never fear, 'Buzzie Welch', the volleyball coach from LC High School, saved the floor and installed in it the cabin he built on Priest Lake, Idaho. That cabin is now, of course, known as the Vision Quest cabin. Itīs pretty darn funny to hear people talk about "The Vision Quest cabin" and ask other people if they've seen it.
Madonna made her first film appearance ever singing "Gambler" and "Crazy For You" in the club scene.
Bogus Trivia
There's often fake stuff floating round, y'know? -Like the 'ghost boy' that can allegedly be seen in "Three Men And A Baby".
But, nothing bogus that we know yet for "Vision Quest".
Next: Behind The Scenes
Or use the menu to select another option
1985 Warner Bros.
1999-2018 fast-rewind.com
V4.0b Powered by Rewind C21 CMS