PLACES
LOCATIONS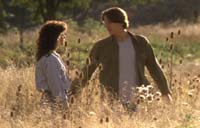 Locations Notes
Rewind the locations where they filmed the 1985 Teen Drama movie starring Matthew Modine, Linda Fiorentino, Michael Schoeffling More Cast
Locations Manager(s):
Unknown
Update
Vision Quest Filming Locations:
Featured
Wanna see the real life filming location used for The bar where Madonna sang her songs in the movie?

These scenes were actually shot at "The Bigfoot tavern", located in Spokane, Washington. Google Map
In the beginning when Louden runs across a bridge. That is the Monroe St. Bridge, in the downtown area of Spokane near River Front Park, where the World's Fair was held and where Bloomsday runners start the race every year. [Thanks to Jordan Davis]
The gym where they wrestled was at Mead High School. Just north of spokane, WA [Thanks to Mark Woolery]
Loudens school, Thompson high, was Rogers High School on Wellesley. There's a scene in "Vision Quest" where Louden and a fellow student are picking up trash in front of a school. That is the exterior of Rogers High School. There is also a scene at the back of the school where the school bus pulls in.
But there is a scene where Louden and the other wrestlers are training. That's the "old" gym at Rogers. Today, that gym was torn down to make room for PE teachers offices and Boys & Girls locker rooms. Plus there are a few familiar scenes in the hallways of Rogers HS. [Thanks to Gary Beyer]
Shadle Park high school located on Ash and Maple in Spokane was also used for some scenes. [Thanks to Jordan Davis]
The hotel Louden worked at is called the Ridpath Hotel. [Thanks to Daniel Zubiate]
Kuch's house is located 1318 W. Sinto Ave. Spokane, WA. [Thanks to Pete Borg]
The restaurant that Louden spots Mr. Tanneran eating with Karla is, in reality, "The Onion," located at 302 W. Riverside Ave in downtown Spokane. [Thanks to Daniel Zubiate]
The diner they eat at in the begining when they meet carla is called Fergusons Cafe (same as in the movie) it is located at 804 W. Garland ave, in Spokane. They just remodeled the interior in 2003 but before that it was the exact same booths and interior as the movie,and a great place to eat. [Thanks to Pete Borg]
The scene where Louden and Karla are driving to see his grandfather is on Bigelow Gulch Road, right outside of Spokane city limits. To this day, that area is unscathed. You can still see the first farmhouse (cream/white) colored that intersects bigelow gulch. [Thanks to Jon Tetro]
Where Madonna was singing, and where Louden told Karla that the cowboys she was with were not right for her; was the Bigfoot Tavern on North Division. [Thanks to Bennie Green]
The scene in the cafeteria was filmed at Ferris High School. They chose extras for all the scenes shot at the schools from the student body. We were told to bring 3 changes of clothes and the costumer chose what we would wear. I was in the cafeteria scene and visible on screen for about 8 seconds. [Thanks to Margaret]
Louden's house is located at 1509 W. Main st. in peaceful valley. [Thanks to Pete Borg]
The stadium where Kuch and Louden confront Shute for the first time (when Shute's carrying the giant timber on his shoulders) is Joe Albi stadium. [Thanks to Travis Graham]
The scene where Mr. Tanneran was shooting basketballs is at Spokane Falls Community College. Which is also where the final wrestling match is set. There are a set of double doors that Louden goes through after warming up (at John R. Rogers High School, the old gym) to get to Spokane Falls Community College. Those double doors were never there. They were at the H.S but led into the Girls Locker/Shower room. But at SFCC they were never there. [Thanks to John C]
Thanks to Ken Vanden Heuvel for updating us with the location of Grandpa's cabin. Full details coming soon in a major update...
Can you help? Particularly with Grandpa's House / Cabin? Please

Update Us
Locations Links
If you know of a good link for Vision Quest locations, please let us know.
Next Section: LX Preview
LX Preview
LX is our radical new locations feature that we've been beavering away on.. For years!

Each location will have it's own page with then/now pictures, maps, StreetView, discovery story and the most detailed explanations on how the location was used. Most importantly, the locations will have a status that shows whether they are verified correct and by whom. We are working with the actual locations managers or other crew where possible. The whole thing will be very interactive and you will, of course, be able to update everything.

We are pleased to be able to bring you a sneak peek at what LX locations will be available for Vision Quest upon release:

Louden's house
Kuch's House
Grandpa's House / Cabin
The bar where Madonna sang her songs
Louden's School
Café
Hotel Louden Works At
The gym where they wrestled
The Restaurant
Opening Scenes - Bridge
The locker room
The stadium
School Cafeteria
Road to Grandpa's
Opening Scenes - Glass Footbridge


Preview Icon Key:

Verified Correct
Probably Correct
Proposed
Probably Wrong
Wanted

Please Note: The status of some entries in this preview may be wrong because they are in-progress or need updating before release.
Jump To: Bungles & Goofs
Or use the menu to select another option
1985 Warner Bros.
1999-2018 fast-rewind.com
V4.0b Powered by Rewind C21 CMS