FILMFACTS
TRIVIA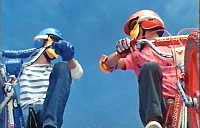 Totally Trivia
Film facts for the 1983 Action / Adventure movie starring David Argue, John Ley, Nicole Kidman More Cast
We believe the following trivia is all legit. If it's bogus or you have additional info, please update us.
One of the goons is wearing a t-shirt from the 1979-1994 UK TV show "Minder", on the front is Terry McCann's (Dennis Waterman) face with the words "leave it out, Arthur!" and on the back is Arthur Daley's (George Cole) face with "it's alright"
During the scene where the kids are going down the waterpark slides with their bikes, you can see one of the pedals + cranks on each bike has been removed, I'm guessing this is to stop it badly scratching the slide.

Glenn Casey kindly wrote in to add: The bikes in the waterslide scene were actually made from PVC piping. They weren't proper bikes at all!
After taking a dip in interest over the years since the 80s, BMXing has been back now for a while with new bikes, new gear and a whole lot of new pro riders with new tricks. Original 80s BMXs in good condition can be worth a bundle now as they're sought after by people who were kids back then and now they're older and have money, want that bike they could never get.
The US bootleg title for this film was "Short Wave". It was also released under the name "BMX, The Movie" in Australia, so if you see a PAL VHS of that name it may not necessarily be a bootleg.
Australian socialite Angela Bishop (daughter of Australian MP Bronwyn Bishop - Minisher for Aged Care) had a tiny role in BMX Bandits. As the Bandits and the Crooks run into the waterslide Angela Bishop can be seen at the waterslide entrance looking 'confused and shocked'. She's about 16 in the movie and doesn't look too dissimilar to her 30 something self now... This has been confirmed by Angela Bishop on the TV show The Panel as she doesn't get a mention in the credits.
Thanks to
The Mighty Movie Guy
This is viewed by Nicole Kidman as one of her personal favourties. She quoted this recently to a Sydney newspaper that quizzed her on her early Aussie films. In fact, the hairstyle in this film gave Nicole an image in many Australians' heads as being 'the girl with the big red curly hair'. I don't think in any other film did she allow her hair to be such a unique part of her character. Most Aussie films she straightened her hair. Here, she let it spring to natural form!
Paul Flaherty can be seen as a businessman
Release Dates:

Australia – 22 December 1983

Sweden – 22 February 1985

Hungary – 12 June 1985

East Germany – 6 January 1989
Nicole Kidman starred in her first feature film, playing the character Judy, in BMX Bandits.

From then the actress has starred in numerous Australian Television mini-series and Hollywood movies.

Nicole is considered one of Australia finest actresses, even though she was born in Hawaii.
Contrary to popular opinion BMX BANDITS is protected by copyright. The film is from Australia. The copyright term in Australia is 70 years for film whereas in the US this film is copyright for 95 years from publication.

US DVD distributors have previously exploited the film for years because it wasn't registered with the USCO. However, it was registered at the beginning of May this year. So any copying after that date, including uploading it, could now be subject to statutory and punitive damages claims from the copyright owners.
Bogus Trivia
There's often fake stuff floating round, y'know? -Like the 'ghost boy' that can allegedly be seen in "Three Men And A Baby".
But, nothing bogus that we know yet for "BMX Bandits".
Next: Behind The Scenes
Or use the menu to select another option
1983 Nilsen Premier
1999-2018 fast-rewind.com
V4.0b Powered by Rewind C21 CMS